Join us on Facebook!
Stay updated with our latest construction news, tips, and updates.
Like our Facebook Page
Ready mix concrete as the name suggest is the concrete that is already mixed in suitable proportions before arrival at site either on agitating trucks or dumpers as per the requirement of slump or material.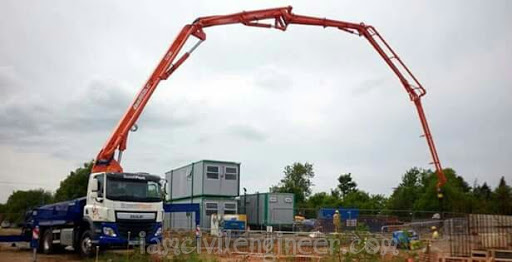 Basically the ready-mix concrete is mixture of binding agent and filler material. Filler material is crushed rock or sand that is coated with cement paste to make a rock-like mass. 
Actually the properties of concrete fairly depend on the proportion in which the ingredients i.e. cement, sand, aggregate, water and some admixture if needed is mixed. The key to achieve a strong durable and sustainable mixture is actually dependent on the careful proportion of the ingredients. 
Therefore it is experienced that if in the concrete mix, the cement past is not sufficient and fines are not enough, the concrete is likely to produce rough surface that will result in honey-combing and porous outlook. Similarly if excess of cement paste is introduced than resulting the surface will be smooth, the mix will be easy to pour but it is likely to crack and is un-economical also.
While you are working at site, as a site engineer, you first need to decide and select suitable suppliers of raw-materials like aggregates, cement and sand etc. And then comes the proper proportioning and taking care of the quantity, which is a hectic job and we also know that workmanship at site is too difficult to control. 
Therefore, only solution to such a problem is ready-mix tailored concrete, as it is better idea to entrust all these activities to some expert supplier who is having a professional acumen. 
Therefore we can define ready-mix concrete in a way like:- 
Ready mix concrete refers to concrete that is batched for delivery from a central batching plant instead of being mixed on the job site.
This ready-mix concrete is made according to the specifications of the contractor and is delivered to the contractor in a plastic condition usually in cylindrical trucks often known as agitating concrete mixers. 
As the concrete is proportioned and mixed in a batching plant proper quantity and quality is assured there due to controlled environment. 
The use of ready-mix concrete will fairly increase the pace of construction.  The consumption of materials will be fairly small as compared to that of job-site mix which will cause sufficient loss of material. Cement in ready-mix concrete is supplied to batching plants on trucks instead of bags and thus less dust pollution is there.
The job-mix concrete is more dependent on labors but in this case it is more dependent on the batching plant machines which have conveyor belts and proper machined environment, thus requirement of labor reduces and also human error is avoided.
There are certain limitations of ready-mix concrete also :-
As the concrete is supplied in large quantity at site thus special placing arrangements and formwork is to be fixed in advance prior to concreting process. 
As the ready-mix concrete is not available for placement immediately after preparation of concrete mix, loss of workability occurs. In addition, there are chances of setting of concrete if transit time involved is more. Therefore, generally admixture like plasticisers / super plasticisers and retarders are used. 
Transit mix concrete all the raw materials are charged directly in the truck mixer. Most or all water is usually batched at the plant. The mixer drum is turned at charging speed during the loading of the materials. While ready mixed concrete can be delivered to the point of placement in a variety of ways, the overwhelming majority of it is brought to the construction site in truck-mounted, rotating drum mixers.