Join us on Facebook!
Stay updated with our latest construction news, tips, and updates.
Like our Facebook Page
With tensions between India and Pakistan running high over an attack on an Indian air base, New Delhi has alluded to the possibility of revisiting a crucial water agreement with Pakistan, but a high-ranking U.N. official cautioned against getting caught up in "water-war rhetoric."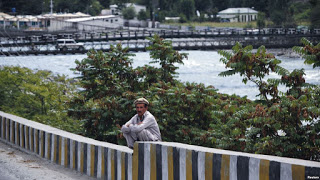 Under the 1960 treaty, Pakistan has the right to use water from three Himalayan rivers in the west that flow from the Indian side, while India has access to three rivers in the east. The western rivers – Indus, Chenab and Jhelum – are an important source of irrigation and drinking water in Pakistan.
Amid calls for India to scrap the arrangement, Foreign Ministry spokesman Vikas Swarup said, "For such a treaty to work, it is important that there must be mutual trust and mutual cooperation between both the sides. It can't be a one-sided affair.\"
Hours after the comment to reporters, U.N. Deputy Secretary General Jan Eliasson pointed out that the Indus water treaty has survived two wars between the rivals.
Speaking at an event on "water as a source of peace" on the sidelines of the U.N. General Assembly in New York, he said water represents a source of cooperation, a source of growth and a source of mutual positive dependence.
Analysts do not expect India to disturb the treaty, but see the Foreign Ministry comment as a message that New Delhi is weighing all options as it considers how to deal with the latest attack.
The assault, the worst in nearly two decades on an army facility in Kashmir, left 18 Indian soldiers dead and has put pressure on Prime Minister Narendra Modi's government to retaliate against Islamabad in some way.
New Delhi has accused the Pakistan-based Jaish-e-Mohammed terrorist group of mounting the assault. Islamabad has denied any involvement.
While India appears to have backed off any military escalation, officials have said they are considering a range of measures, including economic and regional isolation.
For the time being, New Delhi is gathering diplomatic support to put pressure on Pakistan. "We hope that increasingly the international community will see the validity of ensuring that Pakistan is made to stop its state sponsorship of terrorism," Swarup said.
Even before the latest attack, the Indus water treaty was a source of friction between the two countries, with Pakistan saying the construction of dams and barrages by India deprives it of water, and New Delhi saying they are being built within the scope of the treaty.
Source: Voanews.com
Disclaimer: These and such news are provided just by our syndication software and it is automatically updated so editor may not have any control on what is written in there.