This manual is a guide to the design and installation of steel roofing and walling. It is intended that it be used by all trades and professions involved with specifying and applying wide range of products.
When you design steel cladding into your building you have a wide range of profiles from which to choose. Whilst roofing and walling obviously have to keep out of the weather, they also have significant effects on the looks, cost and durability of the building.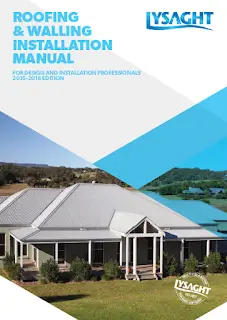 This download is only for our members : Click here and be our member. 
Title of the Book
Roofing & Walling Installation Manual
For Design and Installation Professionals
By Lysaght
Contents of the Book
Design Preliminaries
Fasteners
Insulation & Skylights
Roof Drainage
General Care, Safety and Handling
Installing pierce-fixed cladding
Installing Concealed-fixed cladding
Ends of Sheets
Flashings
Download the Book
The Content is for Members Only !!!
This Book is available to download for our free members, you can simply click the button below to signup / login for your free membership and download the book now.
Download this Book For free