Join us on Facebook!
Stay updated with our latest construction news, tips, and updates.
Like our Facebook Page
To south China\'s Pearl River Delta, where builders have just linked the decks of the world\'s longest sea-crossing bridge together. At 55 kilometers in length, the Guardian is calling the Hong Kong-Zhuhai-Macao Bridge \"one of the seven wonders of the modern world\".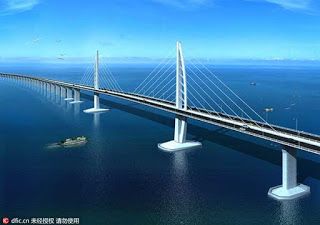 Construction started on the project back in 2009. The sea-crossing bridge connects the three biggest cities in the Pearl River Delta region, namely Hong Kong, Macao and Zhuhai. After the bridge opens, passengers will be able to drive through two special administrative regions and the Mainland in less than half-an-hour. The same journey used to take 3 hours by land or 2 hours by water.
Over 400,000 tons of steel was used to build the bridge, the equivalent of 10 Bird Nests or 60 Eiffel Towers. The construction company that built the bridge says it is designed to stand for at least 100 years. The Hong Kong-Zhuhai-Macao Bridge is one of China\'s most ambitious construction projects. Industry insiders have nicknamed it the \"Qomolangma,\" which is the world\'s tallest mountain.