So that means you have planned to get yourself into one of the world's best universities / colleges / schools for yourself to get undergraduate or graduate studies in the subject of Civil Engineering.  If you are looking for Best Civil Engineering universities in the world, if you want to find out the top 100 civil engineering schools or even best colleges in the world? If your answer is Yes than here is a comprehensive list of schools and universities that are offering civil engineering and are ranked as best or top in the world.
Best Civil Engineering Schools in the World
The subject based ranking of the universities or schools is based on their academic reputation, employer reputation and research impact.
Dealing with the construction, planning, designing and overseeing the development as well as maintenance of buildings, highways, public health engineering,  railroads, bridges, dams, irrigation projects, harbors, it is one of the oldest engineering discipline on the planet.
Civil Engineering finds its rank among the highly paid profession throughout the world. Having majority of departments in the government sectors as well as private sector. Having vast scope of areas, most of the graduates easily find their jobs and have a prosperous career.
\"The subject based ranking of the universities or schools is based on their academic reputation, employer reputation and research impact.\"
1. Massachussets Institute of Technology (MIT), United States of America (USA)
The department of Civil & Environmental Engineering CEE was founded in 1865, just after the civil war. During that time the focus was on surveying and building infrastructure; roads, railways, bridges, canals and drinking water systems.
The department's intellectual focus is discovery and innovation to understand the world, invent and lead with creative design to sustain life and society in ever-changing environments. Both graduate and undergraduate courses are offered with opportunity to blend their educational foundation, and to prepare for the challenges in sustainability, through many disciplinary studies, built around a solid and rigorous foundation of mathematics, statistics and data, computation, and hands-on laboratories.
Some of the areas of interest are ; Structural Engineering & Design, Transportation , Network Analysis & Design (with applications to natural and man-made systems; e.g. cities, transportation, logistics, environment, smart infrastructure), Sustainable Materials (e.g. construction, infrastructure, energy), Multiscale Geomechanics (in the context of energy, resources, including critical zone & subsurface processes) Coastal Engineering & Fluid Dynamics, Environmental Microbiology, Environmental Chemistry (air, water, land), Terrestrial Plant Ecology & Plant Physiology, Benign Design & Manufacturing.
2.
University of Cambridge, United Kingdom, UK

The department of Civil Engineering in the University of Cambridge, UK has an aim of advancing the mechanics of civil and structural engineering systems within the broader context of the design, construction and operation of sustainable infrastructure, and the stewardship of Earth's resources and environment. The Head of department is Dr. Simon Guest.

The department is composed of some centers and divisions, including Laing O' Rourke Center for construction engineering and technology, geotechnical and environmental group, structures and sustainable development group. For Graduate program MSt in Construction Engineering and MPhil in Engineering for Sustainable Development is interesting.
3.
National University of Singapore (NUS), Singapore

Founded in 1905, NUS is the oldest institute of higher learning in Singapore with the status of public and autonomous university.  With over 37 thousand students it has total endowment of 3.12 Billion SGD.

The Department of Civil & Environmental Engineering  formed on 27 September 2010, ,headed by Prof Quek Ser Tong, has generally gone through a good year.

The Department offer Undergraduate, Graduate level and Research based Degrees in the fields of Civil Engineering, Environmental Engineering, Structural, Geotechnical, Offshore, Infrastructure Project Management, Transportation Systems and Management etc.

Scholarships and Financial Aids are also available to the deserving students.
4.
University of California, Berkeley, United States

University of California Berkely was founded in 1868 and is among the oldest top ten research universities with total enrollment of 38 thousand students. The department of Civil and Environmental Engineering is among the top ranked in US. The Colleges of Civil Engineering and Mining were established in 1872 in California University.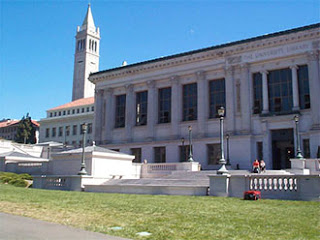 University of California Berkeley, USA Source:Amazon News
The programs that are offered here include topics like energy, civil infrastructure and climate, engineering and project management, environmental engineering, geoengineering, structural engineering, mechanics and materials, systems and transportation engineering.
There are large number of research laboratories and instruction including structures and materials, environmental water resources laboratories, Geotechnical engineering laboratories.
5.
Delft University of Technology, The Netherlands, 

With the total enrollment of over 19 thousand students, the Delft University of Technology was founded in 1842 and is among the oldest dutch public technological university.

Faculty of Civil Engineering and Geosciences, have following departments, Department of Structural Engineering, Geosciences and engineering, geosciences and remote sensing, hydraulic engineering, transport and planning, water management.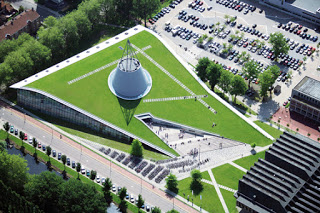 Delft University of Technology, Netherlands Source:Green roofs
The faculty offers undergraduate, graduate and post-graduate courses in the university, Bachelor Programmes include Civil Engineering, Applied Earth Sciences. The graduate programs include applied earth sciences, civil engineering, coastal and marine engineering and management, construction management and engineering, cross-faculty MSc Prgrammes including offshore and dredging engineering, transport, infrastructure and logistics. 596 refereed articles have been published, 85 PhD Defences are there including 447 PhD candidates
6.
Imperial College, London, 

Founded on July 8, 1907 by Edward VII Imperial College London is a public research university located in London, UK.  The areas of interest include environment, water resources, fluid mechanics, structures, system and transport engineering.

In 1913, Civil Engineering separated from Mechanical engineering to form a department in its own right. The stats that may interest you 50+ full time academic staff, 10+ research and teaching fellows, 30+ research staff, 160 PhD students , 62% male; 38% female, 260 MSc students, 65% male; 35% female.

The vision includes;  To advance the very basic science at the core of civil engineering and its sub-disciplines. To explore opportunities for discovery at the intersections of existing disciplines. Build a future without walls by participation in cross-disciplinary research teams to address the world\'s most challenging problems. Foster long-term, strategic relationships with companies, foundations, governmental organisations, and other partners to advance research.
7.
Standford University, United States

Founded on November, 11, 1885 with total endowment of 22.2 Billion USD it is among the top ranked institutes of United States.  The department of civil and environmental engineering  have both research and teaching have global reach faculty currently working in Japan, Armenia, Chile, Tanzania, india, France, Israel, Mozambique and Bangladesh.

Current projects include engineering and renovation of dams, coral reef hydrodynamics, new approaches to mass transit systems, waste water reuse, the development of novel, bio-based structural materials, and the use of life cycle analyses and seismic technologies to ensure sustainable buildings and infrastructure.

The teaching and research falls in to three categories ;-

Atmosphere & Energy – combining atmospheric science with energy science and engineering.
The Built Environment – focusing on creating a sustainable built environment and including programs in Structural Engineering and Geomechanics, Architectural Design, and Sustainable Design and Construction.
The Water Environment – focusing on managing the water environment for sustainable human benefit and developing environmental policies that promote ecosystem heath and human safety, and including programs in Environmental Fluid Mechanics and Hydrology, and Environmental Engineering and Science.
Both undergraduate and graduate courses are offered in the university.
8.
Tsinghua University China

Tsinghua University is a research university located in Beijing, China, and one of the nine members in the elite C9 League of universities. With over total enrollment of above 45 thousand students the university is among the top ranked in China.

School of Civil Engineering was founded in 2000, based on two well known department in Tsinghua Univeristy, namely Department of Civil Engineering and Department of Hydraulic and Hydropower Engineering.

As one of the most time-honored departments in Tsinghua University, Department of Civil Engineering was founded in 1926, with four sections provided including structure, railway & roadway, hydraulic engineering and municipal sanitation and a considerable number of outstanding talents cultivated. In 1952, during the nationwide re-organization of colleges and departments, Department of Hydraulic Engineering was founded based on the corresponding section, with two programs available, namely river & waterpower station structure and hydraulic dynamical equipment. Meanwhile, Department of Civil Engineering had five programs, namely industrial and civil structure, construction, water supply and sewerage, heating & ventilating discipline, building materials.
9.
University of Hong Kong (HKU), HongKong

Founded on March 30, 1911 with total enrollment of over 27 thousands students the university is oldest tertiary institution in Hong Kong.

Since the establishment of The University of Hong Kong and the Faculty of Engineering in 1912, the Department of Civil Engineering has nurtured many brilliant leaders in the civil engineering discipline and made significant contributions to the local and overseas community. , The Department is constantly looking ahead to enhancing its goals in education, research and community services in order to keep abreast of the ever-changing demands of modern society. We are very pleased to have ranked 9th globally for the second year under the QS University Subject Rankings 2016 in the subject area of Civil Engineering.

ong Kong has enjoyed tremendous growth in the past three decades. Such enviable growth and economic achievement have been made possible through the success of infrastructure projects – the cross harbour tunnels, the mass transit railways, the new towns, the highways, the water supply and wastewater treatment systems. The new airport at Chek Lap Kok, the new container port at Tsing Yi and Lantau, the new Route 3 and the western corridor railway to the border, as well as massive sewage collection, treatment and disposal works are now under construction.
10.
University of Tokyo, Japan

The University of Tokyo, abbreviated as Todai or UTokyo, is a research university located in Bunkyo, Tokyo, Japan. The university has 10 faculties with a total of around 30,000 students.

Since launching the International Engineering Program in 1982, the department has provided a high-level educational environment for the design of infrastructure technology, planning, disaster mitigation, and environmental management in English.

To  produce talented individuals who are capable of managing and leading international infrastructure development projects throughout the world. Based on this proven 30 year track record and know-how in recruiting outstanding students and supporting an alumni network, the objective of the educational program is to establish a unique community of top-level civil engineers.
This aim is achieved through encouraging close collaboration between Japanese and International students and preparing graduating students to become future global leaders in the international field of infrastructure technology.