Join us on Facebook!
Stay updated with our latest construction news, tips, and updates.
Like our Facebook Page
A new pedestrian and cycle bridge connecting Nine Elms on the South Bank with the historic Pimlico embankment is a key component in the Partnership's transport development plans.
Transport for London (TfL)'s feasibility study has confirmed the bridge is viable and would be a valuable addition to central London's transport network. The exact location is yet to be confirmed but the preferred options would land close to the site of the new US Embassy.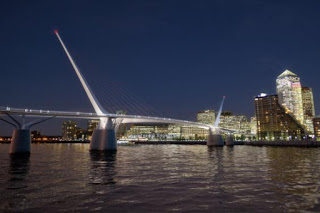 In December 2014, Wandsworth Council launched an international competition to design a new bridge between Nine Elms and Pimlico. See the dedicated website www.nepbridgecompetition.co.uk for full details.
Once a winning design is revealed in autumn 2015 the Partnership will explore a range of funding options which could include sponsorship.
Ravi Govindia, leader of Wandsworth Council and co-chair of the Nine Elms Vauxhall Partnership, said:
"This competition is calling for architects from across the globe to come forward with exceptional, inspiring designs for a new bridge at the centre of the world's greatest city. The successful entry will have to win the hearts of Londoners who are tremendously proud of their river and its rich architectural heritage.
"There are considerable challenges and engineering feats to overcome. The design must work alongside the cutting edge architecture emerging on the south bank as well as the elegant frontages on the north.  The landing points on both sides must integrate sensitively with their surroundings and provide a smooth and safe experience for the pedestrian and cyclists who use it.
Architects have unveiled ambitious new designs for a cycle-friendly bridge across the Thames in east London.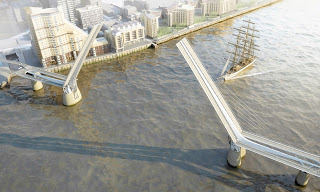 London\'s First Pedestrian and Cycle Bridge
The new crossing, deemed "vital" by backers, would link the rapidly expanding Canary Wharf and Isle of Dogs areas north of the river to Rotherhithe on the south bank.
Designers say the project, which would cost almost £90m to complete, would be "unique in the world" and help reinforce London's status as a tech hub.
The scheme was first conceived by chairman of reForm Architects Nik Randall, who has lived in Southwark for 28 years and had become exasperated at the lack of river crossings serving the area, and Gary Elliott, of engineering firm Elliott Wood.
"It was initially something that was a self-starting idea," Mr Randall told the Standard.