Join us on Facebook!
Stay updated with our latest construction news, tips, and updates.
Like our Facebook Page
Hydrology is science of water, hydrology deals with occurrence, circulation of water and the distribution of water. It studies the way how water is circulated from sea to vapors then precipitation then infiltration, runoff and other similar activities that are taking place.
This book titled "Handbook of Hydrology" includes bundles of scientific laws and observations from various journals and other research papers it is a must-have book for hydro-geologists, civil engineers, irrigation engineers, hydrologists etc.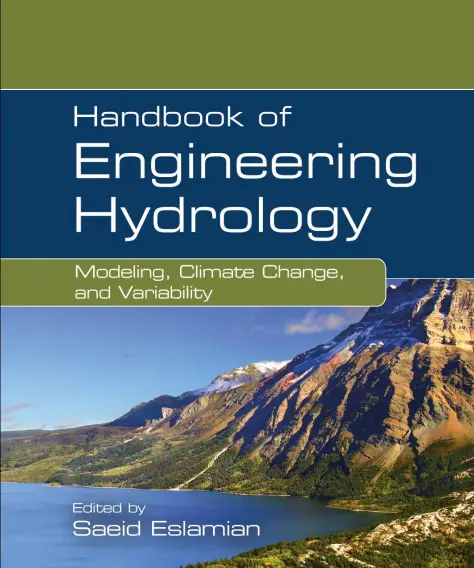 Download Handbook of Engineering Hydrology By Saeid Eslamian
Hydrological and ecological connectivity is a matter of high concern.  All  terrestrial  and  coastal ecosystems  are  connected  with  water,  which  includes  groundwater,  and  there  is  a  growing  understanding  that
 "single  ecosystems"  (mountain  forest,  hill  forest,  mangrove  forest,  freshwater swamp, peat swamp, tidal mudflat, and coral reef ) that are actually the result of an artificial perception and classification can, in the long term, only be managed by a holistic vision at the watershed level.  It  is  essential  to  investigate  ecosystem  management  at  the  watershed  level,  particularly  in  a changing climate.
In general, there are two important approaches:
 1.  Adaption to hydrological events such as climate change, drought, and flood
  2.  Qualitative and quantitative conservation of water, thereby optimizing water consumption.
Title of the Book
Handbook of Engineering Hydrology
Modeling Climate Change, and variability
Editor of the Book
Saeid Eslamian
Contents of the Book
  1  Application of Copulas in Hydrology: Geomorphologic Instantaneous Unit Hydrograph and Intensity Index of Infiltration Frequency
  2  Artificial Neural Network–Based Modeling of Hydrologic Processes
  3  Bank-full Frequency in Rivers
  4  Climate Change and Hydrological Hazards
  5  Climate Change and Hydrologic Modeling
  6  Climate Change and Urban Water Systems
  7  Climate Change Impacts on Hydrolog y and Water Resource
  8  Climate Change: Uncertainty, Impact, and Adaptatio
  9  Dam Risk and Uncertainty
 10  Design Rainfall Estimation and Changes
 11  Discretization in Urban Watersheds
 12  Drought Indices for Drought Risk Assessment in a Changing Climate
Download the Book
The Content is for Members Only !!!
This Book is available to download only for our free Level Members, you can simply click the button below to signup / login for your membership & Download.
Disclaimer:
The book name, author title and all other relevant material is reserved with the publisher, we here at iamcivilengineer.com only shares the links available to download on the internet. We neither upload nor share these things. If you have any problem regarding copyright or download link just send a mail at
[email protected]