MDSOLIDS: is software for topics taught in the Mechanics of Materials course (also commonly called Strength of Materials). This course is typically a part of civil, mechanical, and aerospace engineering programs and a number of related programs. The software also features a number of modules for topics taught in the Statics course. MDSolids consists of routines for beams and flexural members, torsional assemblies, axial assemblies, trusses, columns, pressure vessels, section properties, Mohr\'s circle analysis (including stress transformations and strain transformations), and many more topics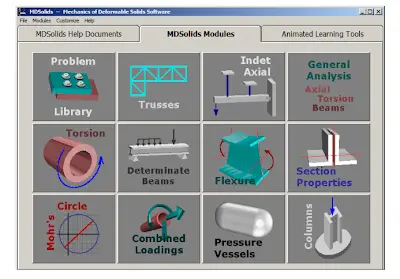 Features:
Throughout MDSolids, the user is offered graphical or intuitive choices for all of the required data or units. In drawing shear force and bending moment diagrams, for example, the user can click on a picture of an arrow pointed down and enter the magnitude of the load to define a downward vertical point load rather than having to remember to enter a negative number for the load.
All of these choices for forces and units are made by simply clicking the appropriate buttons on the displayed forms. The mechanics of materials concepts are difficult enough without adding confusion about software sign conventions and unit systems.
In most cases, four common units (two US and two SI) are provided for each variable. For example, stress can be computed in psi, ksi, kPa, or MPa. The user is free to mix the units in any way desired. For example, a beam cross-section could be defined in millimeters, a beam length in inches, a moment diagram in kN-m, and the resulting bending stress could be shown in psi.  
 DOWNLOAD LINK
:
The Content is for Members Only !!!

This Book is available to download only for free Level Members, you can simply click the button below to signup / login for your membership & Download.
Download this Software for free

Disclaimer:

The software name and its logo is the trademark of respective owner, we here on iamcivilengineer doesn't host the software neither uploaded it we are just sharing here the links to download; and are just for sharing it for student and education purpose; if you have any problem about this link or software you can contact us via contact us page or email at admin@iamcivilengineer.com

Your Feedback

I hope you will like this sharing; stay tuned for the remaining updates about this topic; and don't forget to share it to your friend and buddies on facebook, twitter and gplus.

Thanks
Popular Posts