Join us on Facebook!
Stay updated with our latest construction news, tips, and updates.
Like our Facebook Page
You might have seen roads crossing over each other in an interchange where one road is being lifted over the other to avoid conflicts, reduce time delays and avoid accidents, but until now you must not have seen two waterways carrying huge bulky barges (ships) crossing one over the other.
Named as "Europ'es Larges Water Bridge" it is Magdeburg Canal Bridge – named after the city Magdebur where it is located in Germany .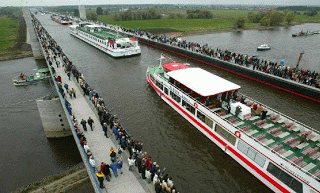 Magdeburg Canal Bridge
Introduction
Taking as long as 80 years of planning this bulky water bridge has brought Industrial Revolution in the country.  The massive water bridge over the Elbe River of Germany cost around 500 million Euros.  It is of total length 918 m. The bridge is holding a canal of 32 m wide and 4.25 m deep. Main bridge over the Elbe canal is 106 m. Employing almost 24000 tons of structural steel, and 680 thousand cubic meters of concrete.
Geography and Background – Why this water bridge was needed?
Magdeburg Water Bridge connects the Elbe-Havel Canal to the MittellandKanalcrossing over the Elbe River. It is notable for being the longest navigable aqueduct in the world.
Before the Magdeburg water bridge the ships moving from Elbe-Havel Canal towards Mittelland Canal had to make a 12 km long way around through the Tothensee boat lift in the Elbe and costing much fuel consumption and wastage of time as well. Moreover the MittelandKanal and Elbe-Havel Canal are a bit at higher elevation than the Elbe Canal (the canal over which they are crossing).
History
Having official opening date of October 2003, this water bridge was in development way back the beginning of 20th century.  Work was started in 1905 and the project continued till 1942 after which the construction was stopped due to world war II,  the project was of no importance after the world war due to no-trade between east and west Germany. But after the reunification of Germany the project gains the same importance and the work started again in 1997 and then completed at October, 2003.
About the Developers
The piers of Magdeburg Water Bridge is of
reinforced concrete
while the
Trusses
are of
steel
. The Owner of this bridge is
Bundesministerium für Verkehr, Bau- und Wohnungswesen
. The original design was made by
Ingenieurbüro Grassl GmbH Beratende Ingenieure Bauwesen
. Structural Engineering was provided by
HRA Ingenieurgesellschaft mbH Bochum
while the contractors were
Bilfinger Berger SE
,
Dillinger Stahlbau GmbH