Join us on Facebook!
Stay updated with our latest construction news, tips, and updates.
Like our Facebook Page
Are you looking for some awesome parapet wall design in village? If yes, you've just arrived at the right place. In our today's blog we've put together some jaw-dropping parapet wall design especially pertaining to village.
parapet wall is a pretty important component that not only enhance the curb appeal of your property but also enhances the value of your house. So, whether you're looking to resale your property in near future or want to enhance your rental income; these parapet wall design in village will ensure you achieve your goal.
Every home is unique and so are the requirements. Some of the parapet wall design are affordable while others might be expensive to follow. But before the enthusiasm takes better of you; it's best to get some inspiration and be creative with your design taste. 
A parapet wall is a protective barrier that is placed along the edge of a roof or terrace, providing protection from wind, rain and other elements. This type of wall serves a variety of purposes, from providing security to acting as a decorative feature. It extends up from the roofline or from the edge of a building and also protects property from potential intruders.
The height of the wall can vary depending on its purpose but generally ranges from one to three feet high. Parapet walls are typically placed along the perimeter of a roof or along the front of a building in order to provide additional protection and security.
Table of Contents
Some jaw-dropping parapet wall design
Good design is essential in ensuring the safety and longevity of your house. One of the most important aspects of a successful village design is a parapet wall. A parapet wall is a low wall that is built along the edge of a rooftop, balcony, or other structure. It provides additional protection against falls and other potential accidents.
In villages, houses are not that tall and are mostly of a single story. And because of their traditional living, they use the roof top for enjoying their time in an open atmosphere and even eat together at the roof top. In such cases, the need of the parapet wall is very important. It protect kids from tipping over the roof and also provide privacy from the road line.
Parapet walls in villages come in a variety of materials and styles, including concrete, stone, wood, and even metal. Depending on the design of the house and the type of environment, different types of parapet walls can be used to provide additional security or to enhance the aesthetics of the structure.
Concrete parapet walls are an excellent choice for high-traffic areas and provide a durable, long-lasting barrier against wind, rain, and other elements. The concrete can be formed in any shape or size and can be easily customized to fit any architecture.
Stone parapet walls are often used in more rural settings. These types of walls are made from large stones and may include mortar joints that help to strengthen the structure. Stone parapet walls also provide an attractive decorative element to the building, making them popular in country homes.
Wooden parapet walls are typically used on residential buildings and are most common in homes with wood siding. These walls provide an attractive look to the structure and can also help to add extra security for the inhabitants.
Finally, metal parapet walls are popular in industrial settings as they offer a strong and reliable form of protection from fire and other hazards. Metal is also easy to customize and can be painted in a variety of colors to match the color scheme of the building.
How to choose the best parapet wall design in village
First, the parapet wall must meet all local building codes and regulations. This may include specifications such as dimensions, material, or any other requirements set by the local municipality.
Know your budget
As different materials have different price range. So it is pretty important to know your budget beforehand. You can obviously adjust the dimensions as well as the material specification to suite the budget.
Know your choices
You can know different types of materials for parapet wall commonly available in the market. This will help you in evaluating the choices on your own. You can enlist the materials and write their price range. Later, you can easily exclude the choices that are not in your budget.
Consider aesthetics
Don't go overboard with some unorthodox ideas as not all bold designs look good. Especially for village, we recommend you consider aesthetics of your house. Make sure your chosen idea blend with its surrounding and make a cohesive deign that'll stay  there for years.
Ask for a pro to help
If you're still unable to decide a parapet wall design for your house; you can ask a professional for help. They better know the materials and their requirements like maintainability, durability, and affordability. Just tell them about your requirements and budget and they'll have a good choice for your house.
By taking these factors into consideration when designing and constructing a parapet wall, it is possible to create a functional and aesthetically pleasing structure that adds value overall.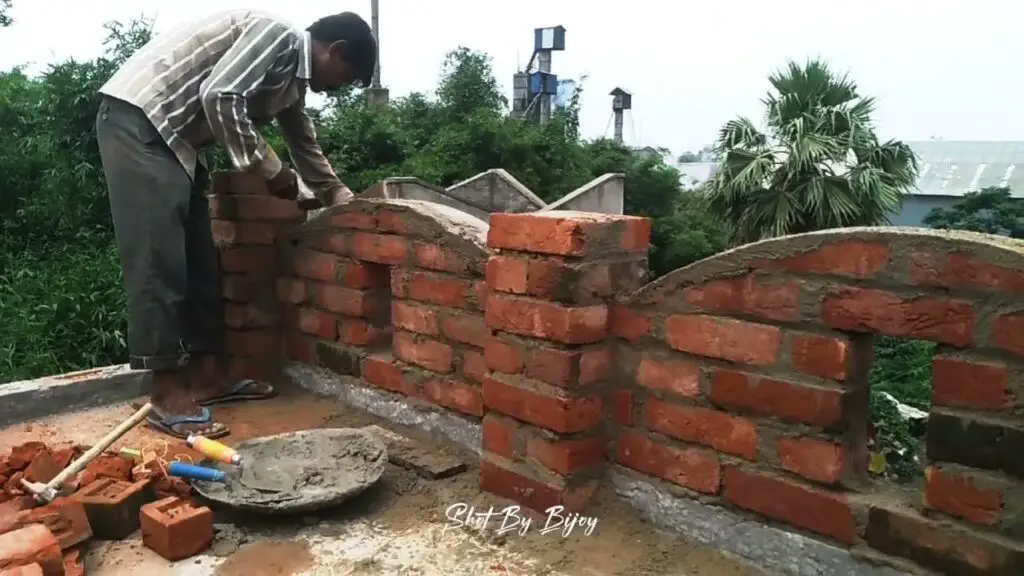 Conclusion
So, you see there're so many parapet wall design in village for your consideration. But it's best to evaluate the needs of your home, know your budget, get some inspiration, and choose a parapet wall design that blends well with the existing décor of your home.
Now that we've done our part; it's now your turn to share your comments and thoughts about parapet wall design in village