Join us on Facebook!
Stay updated with our latest construction news, tips, and updates.
Like our Facebook Page
Demolition is the deliberate destruction of structures and materials by means of explosives, mechanical devices, fire, chemical agent, etc.
What is Demolition?
Demolition is a pre-planned and controlled bringing down or destroying of a building or structure while considering all the safety precautions.
According to Wikipedia demolition can be defined as "dismantling,razing, destroying or wracking any building or structure or any part thereof by pre-planned and controlled manner."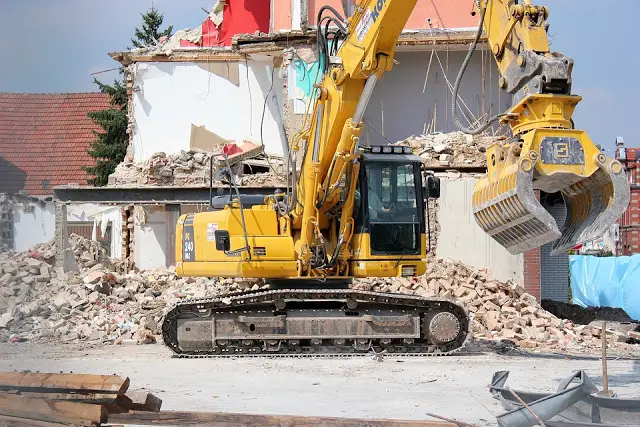 Demolition Process and Methods for Buildings and Structures
Demolition of a building or structure may involve complete or partial dismantling excluding any refurbishment or alteration of existing structural components.
Another sister term of demolition is implosion; implosion is the name given to the method of demolition by means of explosives.
Huges & Salvidge is a renowned British Company specializes in number of methods for the demolition of commercial, industrial buildings including high-rise blocks or flats.  
Before carrying out the demolition at site, cautious and careful planning is a definitive pre-requisite. A pre-start meeting must takes place guiding all the works and management personals about their duties and Risk Assessments is done. A Method Statement, containing the methods of demolition techniques to be used, is then produced to control the highlighted risks.
Why demolition is needed?
The life cycle of concrete structures is usually 40 to 90 years. During this life, structures often meet with some situations like disasters, changing functions, city reconstruction, or higher residence demand due to population, all these lead to demolition or reconstruction of existing structures. The structures which have already passed their design life need to be reconstructed for safety and operational requirements.
In developed countries demolition is very essential for development of new structures for various residential and industrial purposes. Small structures can be demolished by manual methods but machinery and advanced techniques are required for demolition of bigger structures. Advanced techniques are also required for faster demolition and demolition in confined areas.  The government agencies are also needed to demolish the buildings which violate the building rules and regulation ensuring structural safety, health, fire safety and construction safety of the building.
Any kind of demolition work needs labor forces for executing the work. Today various kinds of demolition methods are available, but the method of implementation for demolition work varies with the site condition, safety and cost.
Demolition Sequence
Before the start of Demolition Project the demolition sequence is properly determined keeping in view the actual site conditions and restraints to avoid any confusion and loss later in the project.
The structure to be demolished is properly surveyed and the surroundings are properly inspected for any utilities. If there are any utility lines present like electricity, plumbing water lines, drainage connections; than these must be properly plugged or discontinued. Organize testing and checking for presence of any hazardous material e.g. Asbestors – if any, removal of Hazardous material by specialist contractor must be ensured.
If the building have any cantilever structure like verandah or canopy that must be demolished first. The presence of lift machines and watertanks at high level must be demolished in top down sequence to the main roof level.
In case of demolition for the roof slab; it must be ensured to initiate demolition from the center mid span and then work outwards towards the supporting beams of frame structure. In case of roof slab supporting on walls, the non-load bearing walls must be demolished before demolition of load bearing walls. Columns and load bearing walls shall be demolished after removal of beams on top. If site conditions permit, the first floor slab directly above the ground floor may be demolished by machine standing on ground.
Demolition Methods & Techniques
If you are looking for a career in Demolition Industry than you must get ready to face defies and challenges due to uniqueness and exceptionality of each project in terms of the surrounding environment to the structure and the materials used.
The selection for the Demolition Method or Process is dependent on some factors like:-
a.       Area where the building is located
b.      The time available for demolition
c.       The building material
d.      The purpose of the demolition
e.      The way waste debris is going to be disposed
f.        Noise and Dust Control factors (HSE)
In the past when the technological innovations have not found its footprints in the construction industry, the buildings and structures were dismantled by humans manually through hammers at the end of their lives due to structural of functional obsolesces. But mankind has learned from their mistakes, failures and disasters due to lack of awareness and knowledge on demolition.
The demolition method also varies with the time available for demolition and need of site clearance for the new structure. Before execution of demolition work, the careful study of site condition, the type of structure, structural member, demolition range, rural or urban area and frequency.
The application of method for demolition depends upon actual site condition and available space.
We can classify the demolition methods or demolition techniques into two broad categories one can be called conventional method and the other can be called non-conventional methods. According to a research from University of Salford, demolition techniques are now not only numerous but also varied in their technology, application, cost and speed.  
Manual Methods
In conventional and manual methods the demolition work is carried out manually by hands or hammers. Sledge hammer, chisel or jack hammer and drilling equipment is used. This is a very slow and rather cheap method of demolition which can be used for small house or residential building.
Demolition by Wrecking Balls
This is one of the oldest and commonly used methods of building demolition. A crane uses a wrecking ball, weight upto 6120 kg, which is either dropped onto or swing into the element to be demolished. The ball is made from forged steel, which means the steel is not cast into ta mould in a molten state. It is formed under high pressure while the steel is red hot (soft but not molten) to compress and to strengthen it.  Concrete members can be broken into small pieces, but secondary cutting of reinforcing may be necessary.
Single in-line method or vertical drop method are used in case of crane and ball method.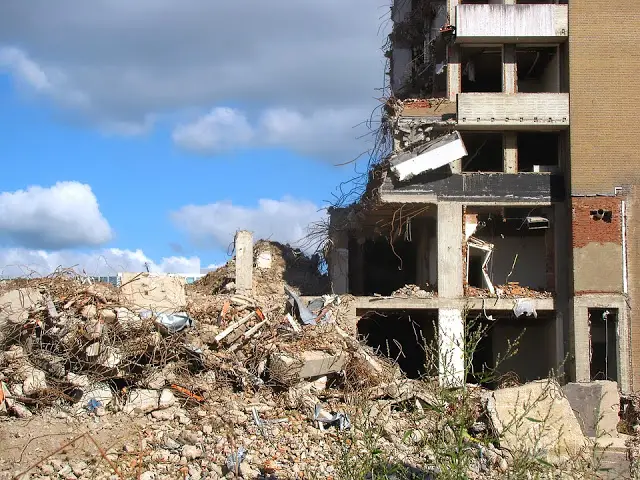 Demolition of a Building Structure
Advantages:
To demolish roofs and other horizontal spans
The wrecking balls are still used when demolition may not be possible due to local environmental issues or asbestos/lead building content.
Disadvantages:
It demands a great deal of skill from the crane operator.
The height of a building that can be demolished is limited by crane size and working room; however, buildings as high as 20 stories have been demolished.
The breakup process can cause considerable dust, vibration and noise which may be objectionable.
Demolition.
Selective or complete demolition of concrete structures is possible by cutting elements and then removing by crane. The cutting process may be sawing, water jetting or thermal lance. Because the surface of the cut concrete is smooth and relatively regular, these methods have particular application when the objective is partial demolition, for instance in the creation of openings in walls and slabs.
Hydro Demolition
Cutting with a water just minimizes dust and eliminates vibration and fire hazards. An abrasive and water-catching system is required to clean up during the jetting process. Hydro demolition uses a high pressure supersonic water jet, that penetrates the pores and cracks of the concrete and builds up an internal pressure. When this pressure exceeds the tensile strength of the concrete, the concrete breaks. The water jet can be used not only for cutting straight lines but also contours a useful features for cutting access manholes.
Hydro Demolition
Thermal Lance
A thermal lance is created by packing a seamless mild steel tube with low carbon rods and passing oxygen through the tube. While this method eliminates vibration and dust problems, it creates other hazards associated with smoke and fire danger. Whether sawing, jetting or lancing is used to dismantle the structure or its components, each element must be safety lowered to the ground.
Pneumatic and Hydraulic Breaker
A common piece of equipment used for demolishing bridge decks, foundations and pavements is a hydraulically or pneumatically operated, boom-mounted breaker. The advantages of a machine mounted breaker may include a telescoping boom for easy reach and remote control operation and underwater demolition capabilities. Some of the smaller remote-controlled machines can be lifted through window openings and used inside a building to demolish floors and walls. Productivity can vary greatly depending on the size of hammer, type of concrete, amount of reinforcing and working conditions.
A jackhammer is a pneumatic or electro-mechanical tool that combines a hammer directly with a chisel. Hand-held jackhammers are typically powered by compressed air, but some use electric motors. Electric powered tools come in a variety of sizes from about 12 lbs to 65 lbs. They required an external power source, but do not require a compressor.
A hydraulic jack hammer typically much larger than portable ones, may be fitted to a mechanical excavators or backhoes and is widely used for roadworks, quarrying and general demolition or construction groundwork. They are used in mines where there is an explosion risk since they lack any high-power electrical circuitry that might cause a trigging spark. The jackhammer is connected with hydraulic hoses to a portable hydraulic power pack; either a petrol or diesel engine driving a hydraulic pump.
Explosives
In the controlled demolition industry, building implosion is the strategic placing of explosive material and timing of its detonation so that a structure collapses on itself in a manner of seconds, minimizing the physical damage to its immediate surroundings. Despite its terminology, building implosion also includes the controlled demolition of other structure, such as bridges, smokestacks, towers, and tunnels. Numerous small explosives strategically placed within the structure are used to catalyze the collapse. Nitro-glycerin, dynamite, or other explosives are used to shatter reinforced concrete supports.
Blasting methods employ rapidly expanding gases confined within a series of boreholes to produce controlled fractures which provide for easy concrete removal. For the demolition of concrete structures it is usual to drill holes at a predetermined angle into the concrete to be removed. Implosion is the strategic placing of explosive material and timing of its detonation so that a structure collapses on itself in a matter of seconds, minimizing the physical damage to its immediate surroundings. The technique weakens or removes critical supports so that the building can no longer withstand the force of gravity and falls under its own weight.
Safety Precautions during Demolition
Hoarding
Hoarding and Protective Screens isolates the demolition site from the public, thus preventing unauthorized access and trespassing.
Safety Precautions during Demolition
Walkways
Walkways shall be provided for the use of the workmen who shall be instructed to use them an all such walkways shall be kept adequately lighted, free from debris and other materials.
Catch Platforms
In demolition of exterior wall of multistoried structure, catch platform of heavy planking shall be provided to prevent injuries to the worker working below and to the public when the external walls are more than 20 m in height.
Whats Next…to Demolition????
A new approach to demolition is the deconstruction of a building with the goal of minimizing the amount of materials going to landfills. This \"green\" approach is applied by removing the materials by type material and segregating them for reuse or recycling.
With proper planning this approach has resulted in landfill diversion rates that exceed 90% of an entire building and its contents in some cases. It also vastly reduces the CO2 emissions of the removing of a building in comparison to demolition.
I hope you loved the article about Demolition Techniques and Demolition Methods if you have any further questions and additions please do comment on the form below.