Join us on Facebook!
Stay updated with our latest construction news, tips, and updates.
Like our Facebook Page
Habib Rafiq Construction Company is located in 6 – K, Block H, Gulberg II, 54000 Lahore, Pakistan founded in 1958 with services and products related to Engineering, Project Management and Construction.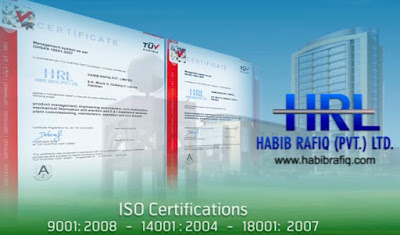 Habib Rafiq Construction Company Pakistan

Profile / Intro of the company
Habib Rafiq (Pvt.) Limited has come a long way to symbolize commitment, distinction and professional Excellence by meeting the stringent, demanding and extra ordinary work requirements of high engineering, national and international importance involving civil, electrical and mechanical works for the last 55 years.
The ever increasing efforts towards attaining better and new business ventures have exposed the company to multitude of engineering disciplines. Now it is company\'s prerogative to be working in infrastructure, housing, design and environmental areas other than its strong standing in industrial projects for power, chemicals, petro chemicals, roads, Motorways and buildings.
Services of the Company
Main Services of Habib Rafiq Construction Company includes :-
Project Management Services
Engineering Services
Procurement Services
Civil Construction Services
Mechanical Fabrication Services
Mechanical Erection Services
E & I Installation Services
Operations & Maintenance Services
Commissioning & Turnarounds Services
Contact Details :- 
Address: 6 – K, Block H, Gulberg II
54000 Lahore, Pakistan
Call : Call +(92-42) 42 35712944, 35711411
Email: [email protected]
Web:  www.habibrafiq.com
Facebook:  Habib-Rafiq-Construction-Company-347348378647628
Sector of Habib Rafiq Construction Company
HRL offers its Construction & Engineering Services in Road & Infrastructure Sector:
Earthwork Concrete
Pavements Asphalt
Pavements Dismantling and removing of existing road pavements
Road drainage works
Foot paths, roads dividers, road markings & road safety systems
Road embankment in borrowed soil
RCC Pipe Culverts
Stone Pitching
Concrete Lined Roadside Drains
Complete Civil Works
Excavation
Piling (Structural and contiguous)
Electromechanical works
Fire Fighting
Architectural Work
Elevators
Sewerage
Plumbing and landscaping
Interior finishing
Turnkey solutions
HRL offers its Construction & Engineering services in Petrochemical & Chemical Sector:
Design and construction of control buildings
HVAC, Electrical, plumbing and mechanical work
Detailed engineering, fabrication, erection and testing of under ground drainage
Steel Structure Fabrication and erection in less then 4 month
Construction of foundation for fuel oil tanks
Construction of dike walls for fuel oil tanks
Construction of water drainage system for the Plants
Installation of Cathodic protection system for tanks and pipe lines
Installation and testing of HDPE Membrane under the tank foundation and dikes
Construction and erection of precast pipe racks
Construction of Pedestal for pipeline
Installation of fire fighting sprinkle system
HRL offers its Construction & Engineering Services in Airports/Aviation Sector:
External Electrification System
Fire Alarm and Fire fighting System
Scanning System
Elevators
Standby Generator System
2000 KVA Standby Generator System
Passenger Boarding and docking system
Construction of Passenger Terminal Building and Allied Electrical & Mechanical Works
HRL offers its Construction & Engineering services in Water Environment Sector:
Construction of supply channel
Construction of Screen House
Equalization Tanks
Settling Tanks
Pump Houses
Embankments
Clarifiers
Facultative Lagoons
Sludge Disposal
Lagoons and other facilities
Laying of Geo-membrane
Erection of fiber glass pipe line
Mechanical jobs
Electrical jobs
Construction of control rooms
Projects of Habib Rafiq Construction Company in Operation 
400 MW Combine Cycle Power Plant Kot Addu, Pakistan
(100,000 BPD) Parco Mid Country Oil Refinery Qasba Gujrat
Defence Housing Authority Phase – II Location :Islamabad – Pakistan
Shaheen Complex Lahore Abbott Road – Lahore
Multan International Airport Multan, Pakistan
Raw Water Reservoir Khanpur Dam Khanpur, Pakistan
Kasur Tannery Polution Control, Kasur, Pakistan
Get your Directions Map for Habib Rafiq Construction Company, Pakistan
[googlemaps https://www.google.com/maps/embed?pb=!1m18!1m12!1m3!1d1722404.259576404!2d72.65368794197012!3d32.52425546177653!2m3!1f0!2f0!3f0!3m2!1i1024!2i768!4f13.1!3m3!1m2!1s0x391904fc54573c8d%3A0x982b9894398c5737!2sHRL!5e0!3m2!1sen!2s!4v1499249016171&w=600&h=450]
From Editor\'s Desk
If you are a construction company working in Pakistan than this is a best opportunity for you to enlist your business with iamcivilengineer.com and get your desired audience know your profile.
Contact us @92 347 9231525 or email us @ [email protected] for an immediate company listing.