Civil Engineering Jobs in Services Master (Pvt.)Ltd. A Lahore based company located in New Garden Down requires the services of self-motivated civil engineers in the following disciplines :-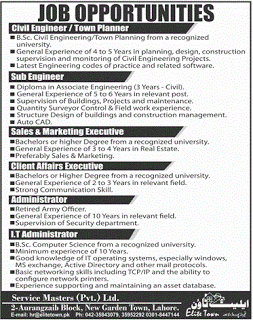 Civil Engineering Jobs in Services Master (Pvt.) Ltd., Lahore, Pakistan
1. Civil Engineer / Town Planner Job
B.Sc. Civil Engineering / Town Planning from a recognized university
General experience of 4 to 5 years in planning, design,  construction supervision and monitoring of Civil Engineering Projects. 
Latest Engineering codes of practice and related softwares. 
2. Sub Engineer Job
Diploma in Associate Engineering (3 Years – Civil) 
General Experience of 5 to 6 years in relevant post. 
Supervision of Buildings, projects and maintenance. 
Quantity Surveyor Control & Field Work experienced. 
Structural Design of buildings and construction management. 
AutoCAD. 
Apply at: [email protected]
Ph: 042-35843079
This Civil Engineering Jobs in Services Master (Pvt) Ltd., Lahore, Pakistan is best opportunity for experienced Civil Engineers. All Civil Engineering jobs in Services Master (Pvt) Ltd., Lahore, Pakistan  is collected from different Newspapers on every Sunday and shared for our viewers so that that can apply for the job and get the employment in Services Master (Pvt) Ltd., Lahore, Pakistan  as Civil Engineer. These Jobs are for the Building Sector, So you must have experience in Building Construction including Exterior, Interior, HVAC, Structural Framing, Concrete Works. 
We have prepared a group on Facebook where you can get the alerts about Jobs in Services Master Private Limited. If you know any job opportunity in Private Sector both permanent Jobs and Jobs on contract basis you can contact us, you can inform us about the job.
If you are a
fresh or experienced civil engineer
living in Pakistan and seeking Civil Engineering Job in
Building Sector
than don't post or share your CV here as we are not a part of the department and we are just sharing it so that you can get the opportunity to apply for this job.