Join us on Facebook!
Stay updated with our latest construction news, tips, and updates.
Like our Facebook Page
A total of 68 excavators were dispatched on Friday night to remove the Yonghemen Flyover, which was a vital road of downtown Nanchang in southeast China's Jiangxi Province.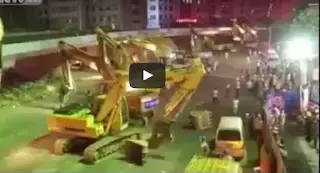 Add caption
The area affected by the dismantling of the flyover will be cleared by Monday when traffic is expected to resume. The move came as a new subway line, Nanchang Subway Line 2, is set to pass through the area to help ease traffic volume.
According to ncnews.com.cn, a local online news portal, during rush hours, 5,000 vehicles on average pass through the area. It is estimated that there are around 750,000 motor vehicles around the city, and the overpass could not help ease traffic gridlocks.
Built in 1992, Yonghemen Flyover stretched 504 meters in length, and 14.8 meters in width. It covered an area of 6,180 square meters, and had two traffic lanes on each side.
[youtube https://www.youtube.com/watch?v=DEIBZLQw1Yk]