Join us on Facebook!
Stay updated with our latest construction news, tips, and updates.
Like our Facebook Page
Basically, piers constructed monolithically with the bridge deck are advantageous in the following ways:
(i) Movement of the bridge deck is achieved by the bending deformation of long and slender piers. In this way, it saves the construction cost of bearings by using monolithic construction between bridge deck and piers. Moreover, it is not necessary to spend extra effort to design for drainage details and access for bearing replacement. On the other hand, in maintenance aspect substantial cost and time savings could be obtained by using monolithic construction instead of using bearings as bridge articulation.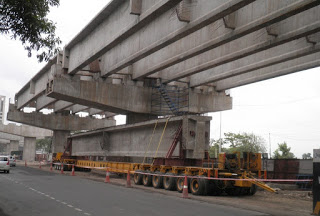 (ii) Monolithic construction possesses the shortest effective Euler buckling length for piers because they are fixed supports at the interface between bridge deck and piers.
Note: Monolithic construction means that piers are connected to bridge decks without any joints and bearings.
Vincent T. H. CHU