The subject of Irrigation has assumed a worldwide importance since it holds the key to provide food to the teeming billions living in developed and developing countries. The science of irrigation engineering vary from situation to situation. The science of irrigation engineering vary from situation to situation. In the riverless middle east it depends on small discharges of wells and springs while in countries like Pakistan, Iraq, and Egypt it is based on huge river discharges. The man made canal discharge of 22000 cfs and more may be exceeding those natural rivers in other countries.
Pakistan has one of the world's largest continuous irrigation system with three storage dams, seventeen barrages, more than 40,000 miles of canals and thousands of hydraulic structures. This was initiated in the last century and continues to expand with more areas coming under canal irrigation. Similar systems exist in other countries like India, Bangladesh, Iraq, Egypt, Jordan, Malaysia and USA.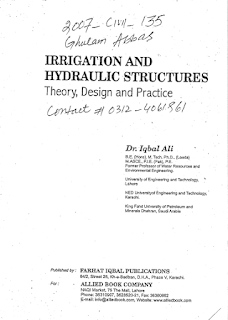 Irrigation and Hydraulic Structures Theory Design and Practice
Title of the Book
Irrigation and Hydraulic Structures
Theory, Design and Practice
Author of the Book
Dr. Iqbal Ali
Contents of the Book
Introduction
Water Resources for Irrigation
Low Head Divetsion Danl (barrages)
Irrigation Canals
Silt. Control in Irrigation Canals
Structures on Canal Falls
Cross Drainage Works
Irrigation Outlets
Dams
Design of Wells
Water Management and Irrigation Systems
Environmental Impacts of Irrigation
Computer Applications in Water Resources
Download the Book
Free Download Link of Irrigation Engineering by Dr. Iqbal Ali is only available on purchase so please contact us via Contact Us Page.
Note: – As per our New Policy updated on 25th August, 2016, from now onwards no Book or Software will be available for free of cost due to copyright claims, However you can enjoy the downloads by becoming our affiliate member on very reasonable and cheap rates. 
or 
Click the link below if you are already a member to download