Fluid mechanics is encountered in almost every area of our physical lives. Blood flows through our veins and arteries, a ship moves through water and water flows through rivers, airplanes fly in the air and air flows around wind machines, air is compressed in a compressor and steam expands around turbine blades, a dam holds back water, air is heated and cooled in our homes, and computers require air to cool components. 
All engineering disciplines require some expertise in the area of fluid mechanics.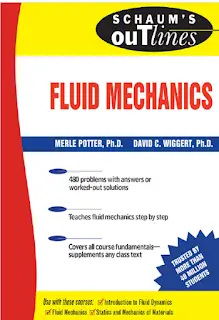 Fluid Mechanics 
In this book we will present those elements of fluid mechanics that allow us to solve problems involving relatively simple geometrics such as flow through a pipe and a channel and flow around spheres and cylinders. 
But first, we will begin by making calculations in fluids at rest, the subject of fluid statics. 
The math requirement is primarily calculus but some differential equation theory will be used. The more complicated flows that usually are the result of more complicated geometries will not be presented in this book. 
Title of the Book
Fluid Mechanics
Authors of the Book
Merle Potter, Ph.D.
David C. Wiggert, Ph.D.
Contents of the Book
Chapter # 1: Basic Information
Chapter # 2: Fluid Statics
Chapter # 3: Fluids in Motion
Chapter # 4 : The Integrated Equations
Chapter # 5: Differential Equations
Chapter # 6: Dimensional Analysis and Simlitude
Chapter # 7: Internal Flows
Chapter # 8 : External Flows
Chapter # 9 : Compressible Flow
Chapter # 10: Flow in pipes and Pumps
Appendix A Units and Conversions
Appendix B Vector Relationships
Appendix C Fluid Properties
Download the Book
The Content is for Members Only !!!
This Book is available to download for our free members, you can simply click the button below to signup / login for your free membership and download the book now.
Download this Book For free