The overall objective for the design of bituminous paving mixtures is to determine, within the limits of the project specifications, a cost-effective blend and gradation of aggregates and bitumen that yields a mix having the following properties: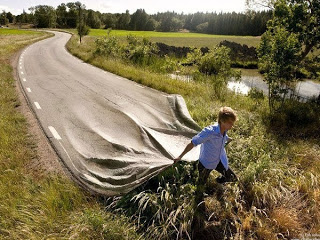 Design of Asphalt Pavement, Bitument Pavement
(a) Sufficient bitumen to ensure a durable pavement;
(b) Sufficient mixture stability to satisfy the demands of traffic without distortion or displacement;
(c) Sufficient voids in the total compacted mixture to allow for a slight amount of bitumen expansion due to temperature increases, without flushing, bleeding and loss of stability;
(d) A maximum void content to limit the permeability of harmful air and moisture into the mixture and the layers below; and
(e) Sufficient workability to permit efficient placement of the mixture without segregation and without sacrificing stability and performance.
Also, for wearing course materials, the mix should
(i) Have sufficient aggregate texture and hardness to provide good skid resistance in bad weather conditions,
(ii) Produce an acceptable level of tyre/road noise, and
(iii) Provide a surface of acceptable ride quality.
Ultimate pavement performance is related to durability, impermeability, strength, stability, stiffness, flexibility, fatigue resistance, and workability.
The goal of mix design is to select a unique design bitumen content that will achieve an appropriate balance among all of the desired properties.
Selection of the aggregate gradation and the grade and amount of bitumen can be accomplished by two general methods: a standard 'recipe' approach, or an engineering design approach.