Join us on Facebook!
Stay updated with our latest construction news, tips, and updates.
Like our Facebook Page
Civil Engineering Jobs in consultancy organization, If you are a civil engineer and is seeking a job or a career in a consultancy organization than this job is for you. It is well paid and easy job for a civil engineer or any environmental engineer who have experience of more than a year or so. There are also jobs for AUTOCAD Draftsman who want his career in Consultancy organization. 
You can get this job by applying on an email ID provided at the end of the job advertisement.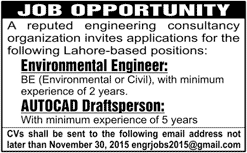 Job Opportunities
A reputed engineering consultancy organization invites applications. 
Posting 
Lahore, Pakistan
Post(s)
1) Environmental Engineer – BE (Environmental or Civil) with minimum experience of 2 years. 
2) Autocad Draftsperson 
With minimum experience of 5 years 
Note 
CVs shall be sent to the following email address not later than November 30, 2015