Join us on Facebook!
Stay updated with our latest construction news, tips, and updates.
Like our Facebook Page
A    fibre  is a unit of matter characterized by flexibility, fineness and a high ratio of length to thickness.
Because fibres have a high surface to volume ratio, they can be extremely strong materials. According to their origin, textile fibres may be classified as  natural fibres , when they occur in nature in fibre form, and  man-made fibres , when they do not occur in nature in fibre form.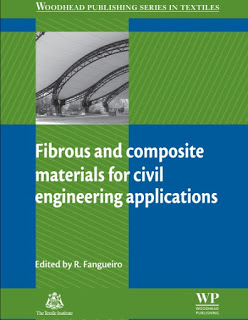 This chapter addresses the relationship between their structure and properties, and their use in civil engineering applications, such as road construction, bridges, non-structural gratings and claddings, structural systems for industrial supports, buildings, long-span roof structures, tanks, thermal insulators, etc.
Title of the Book
Fibrous and Composite materials for Civil Engineering Applications
Author of the Book
R. Fangueiro
Contents of the book
Part 1 Types of fibrous textiles and structures
Part 2 Yarns: Production, processability and properties 
Part 2 Fibrous materials as a concrete reinforced material
Part 3 Fibrous materials based composites for civil engineering applications
Download the Book
The Content is for Members Only !!!
This Book is available to download for our free members, you can simply click the button below to signup / login for your free membership and download the book now.
Download this Book For free