Sequel to Pakistan\'s announcement last week about the construction of Torkham-Jalalabad Road Afghanistan, a Ground Breaking Ceremony was organized by the Afghan Ministry of Public Works at Jalalabad for laying an additional carriageway of the road by the Frontier Works Organisation. The 75 km long section is a part of the legendary Grand Trunk Road which connects Pakistan and Afghanistan through the historic Khyber Pass.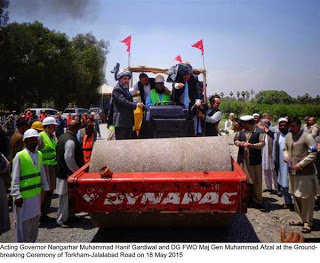 The ceremony was attended by Mr Muhammad Hanif Gardiwal, Acting Governor Nangarhar Province, Maj Gen Muhammad Afzal, Director General Frontier Works Organisation, Mr. Syed Ibrar Hussain, Ambassador of Islamic Republic of Pakistan, Mr. Ahmed Ali Hazrat, Chairman of Provincial Council, Engineer Noorgul Mangal, Technical Deputy Minister (MoP W) and other higher officials related to the project from both the countries.
Speaking on the occasion, Mr Muhammad Hanif Gardiwal said that the highway will further strengthen the deep rooted ties between the two brotherly countries. We are grateful to the government and people of Pakistan for the gift of this road and improved facilities of communication will further strengthen the bonds of friendship". He added.
The DG FWO said that the 75 km long, 2 lane additional carriageway will be constructed along the existing one which was completed back in 2006 by FWO. Entire cost of road construction will be borne by Pakistan. Total width of this road will now be expanded to 14.6 meter into a 4 lane carriageway.The highway will be constructed at par with the international standards to cater for all types of heavy traffic. 7 bridges and 6 underpasses are a part of the project to ensure smooth flow of traffic. DG added.