Hydraulic cement concrete overlays are used as a rehabilitation technique for both existing concrete and asphalt pavements. Concrete overlays offer the potential for extended service life, increased structural capacity, reduced maintenance requirements, and lower life-cycle costs when compared with hot-mix asphalt overlay alternatives.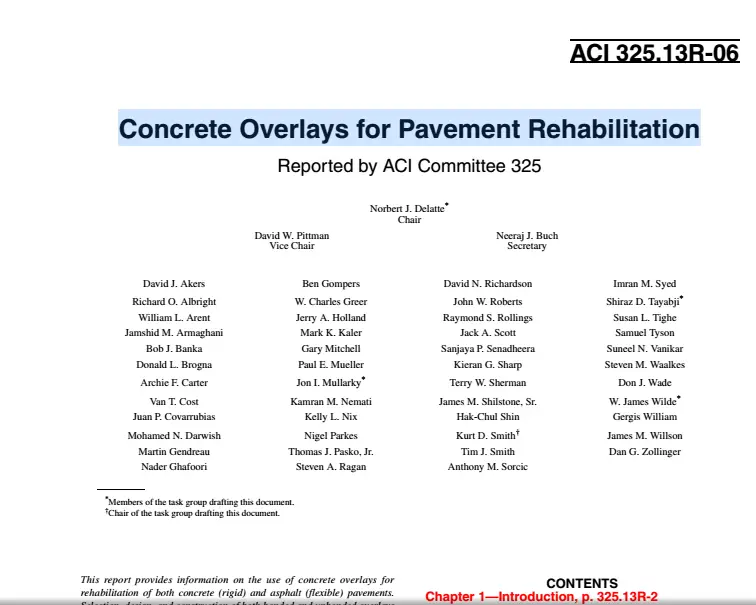 Concrete overlays have been used to rehabilitate existing concrete pavements since 1913 and to rehabilitate existing asphalt pavements since 1918 (Hutchinson 1982). Beginning around the mid-1960s, many highway agencies began to search for alternative means of rehabilitating existing pavements, and the use of concrete overlays increased significantly (McGhee 1994).
In the 1990s, there was an even higher increase in the use of concrete overlays, spurred by improvements in concrete paving technology. For example, the use of zero-clearance pavers, fast-track paving concepts, and high-early-strength concrete mixtures greatly increased the reliability of concrete overlays to serve as a  reliable rehabilitation alternative.
ACI Code
Concrete Overlays for Pavement Rehabilitation
ACI Committee 352
ACI 352.13R-06
Contents
Chapter 1 – Introduction
Chapter 2 – Concrete Overlay types and construction materials
Chapter 3 – Selection of Concrete Overlay Alternatives
Chapter 4 – Bonded Concrete Overlays
Chapter 5 – Unbonded Concrete Overlays
Chapter 6 – Conventional Whitetopping Overlays
Chapter 7 – Ultra –Thin and Thin whitetopping Overlays
Chapter 8 – References
Download ACI Code for free