Join us on Facebook!
Stay updated with our latest construction news, tips, and updates.
Like our Facebook Page
Recently PaySale, a salary information surveying company has conducted a survey of more than 68,000 workers to check the underemployment, overeducated, underpaid and underworked persons. The idea behind the survey was to check the majors (graduation subjects) at graduate levels.
According to Cristopher Ingram from Washinton post:
\"Liberal arts majors (I\'m one of them!) are used to being the punchline in jokes about un- and underemployment. But more unexpectedly, majorities of graduates with more \"practical\" degrees in fields like business administration also said their jobs didn\'t put their education, training or experience to work as much as they should.\"
According to the news Civil and Environmental Engineering along with some other engineering disciplines stand as the least underemployed majors meaning; if you want to get employed as early and on as much pay scale as your education demands Civil Engineering is the right profession for you.
According to the survey the most underemployed majors include criminal justice, sociology, graphic design, education and other disciplines. Very interestingly all the least underemployed majors are men dominated and most of underemployed majors is women dominated.
Here you might be asking a question what actually underemployed means? So you can ask this question from youself (if you are a professional civil engineer)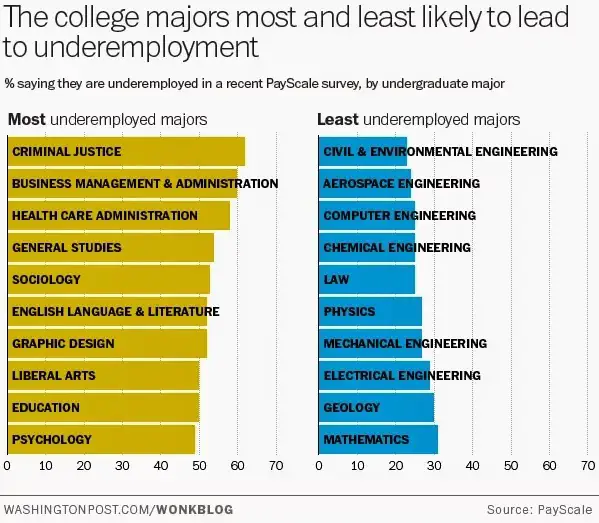 The research report (click to enlarge)
source: The washingtonPost
, any how whatever will be your answers my answer to your that question is poor pay. Yeah! Because if you have done graduation in Civil Engineering you can't expect and will not expect a pay of social worker or similar sort of art majors.