Join us on Facebook!
Stay updated with our latest construction news, tips, and updates.
Like our Facebook Page
Sometimes the oddness brings popularity and makes you attractive as well, same is the case for the structure today I have brought for you. Yes I am talking about Grand Canyon skywalk, jutting out in to the space 4000 feet high is a transparent "U" shaped cantilever bridge like walkway acting as a tourist attraction in Arizona near the Colorado River in the United States of America.
Introduction
Naming is "Grand Canyon Skywalk" this structure allows the visitors to walk at least 70 feet a head of the Grand Canyon Edge and to See the Horrifying depth below the shining floor of transparent clear glass. These Glass panels are built to the highest standards for safety and clarity. The oddness and interesting site location of this walkway makes it an "Engineering Master Piece" that took four years to complete and 1 year for just drilling in the Grand Canyon,  and costs almost $30 Millions.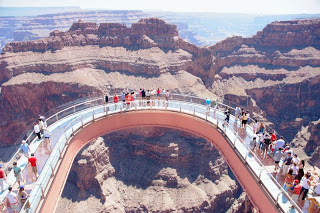 Great Canyon Sky walk
Structural Aspects
The foundation of the skywalk is strong enough to support 71 million pounds the load which is equivalent of 71 fully loaded 747 Bowing Airplanes. The Bridge will be able to sustain winds in excess of 100mph as well as an 8.0 magnitude earthquake within 50 miles from its epicenter. It consists of more than 1 million pounds of steel and 83,000 pounds of glass. In total, it weights 1.2 million pounds. The glass walls are approximately five to seven feet high, extending four to six feet above the glass floor- safer than code, yet low enough that guests do not feel confined. The width of the skywalk is 10 feet so a person can even lay there as well or like 1 storey height. The height above the Colorado river is 4000 feet.
Development
David Jin who is a businessman from Las Vegas has his tourism company; Oriental Travel and Tours is the developer of this Grand Canyon Skywalk. In 1996 he gave an idea to the Hualapai Tribe (the Tribe which owns that site) about this skywalk and he said he would build it at his own expense and turn it over to the tribe and the tribe agreed.
About Companies who Developed
The Grand Canyon Skywalk was designed and engineered by Lochsa Engineering & MRJ Architects and built by Executive Construction Management, all based out of Las Vegas, NV. Engineers conducted tests on the geological stability of the site and researched the foundation by testing the compressive strength of the rock.
 You walk over Grand Canyon Skywalk and I bet you will feel like flying in the sky!