Recently while working on a dam project I go through a term called Roller Compacted Concrete. Mostly abbreviated as R.C.C but it must not be confused with Reinforced Cement Concrete. The word is enough to define itself; roller compacted concrete is a relatively stiff concrete mix that is spread with a paving machine and is than compacted with the help of a roller which is usually steel drum vibratory roller.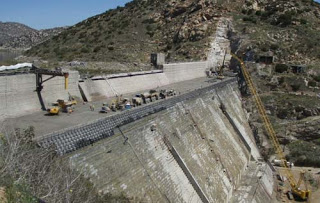 Method of construction used for roller compacted concrete is simple and conventional. 
Roller-compacted concrete has the same basic ingredient as conventional concrete: cement, water, and aggregates, such as gravel or crushed stone.
But unlike conventional concrete, it\'s a drier mix—stiff enough to be compacted by vibratory rollers. Typically, RCC is constructed without joints. It needs neither forms nor finishing, nor does it contain dowels or steel reinforcing.
These characteristics make roller-compacted concrete simple, fast, and economical.
These qualities have taken roller-compacted concrete from specialized applications to mainstream pavement. Today, RCC is used for any type of industrial or heavy-duty pavement. The reason is simple. RCC has the strength and performance of conventional concrete with the economy and simplicity of asphalt. Coupled with long service life and minimal maintenance, RCC\'s low initial cost adds up to economy and value.
For dam applications, RCC sections are built lift-by-lift in successive horizontal layers resulting in a downstream slope that resembles a concrete staircase. Once a layer is placed, it can immediately support the earth-moving equipment to place the next layer. After RCC is deposited on the lift surface, small dozers typically spread it in one-foot-thick (300mm) layers.
The first RCC dam built in the USA was the Willow Creek Dam on Willow Creek, a tributary in Oregon of the Columbia River. It was constructed by the Army Corps of Engineers between November 1981 and February 1983.