Join us on Facebook!
Stay updated with our latest construction news, tips, and updates.
Like our Facebook Page
This document is a report with worked examples summarizing the general rules, basic design principles and design methods for geotechnical design following Eurocodes. It comprises an overview of Eurocode 7 with focus on the design requirements, actions and design situations, and limit states.
Different aspects to be considered for designing shallow foundations, gravity walls, embedded walls and deep foundations are covered in the report. The provisions of Eurocode 7 for ground investigations and testing for geotechnical design, overall stability of and movements in the ground, slopes, hydraulic failure modes and verifications against them are also presented. The Annex contains worked examples to accompany the various chapters of this report.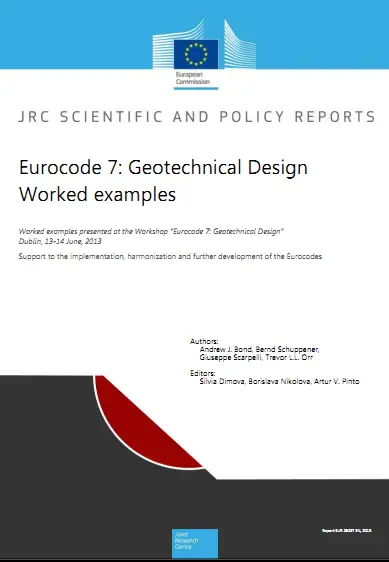 The materials were prepared and presented at the workshop "Eurocode 7: Geotechnical Design" held on 13-14 June 2013 in Dublin, Ireland. The workshop was organized by JRC with the support of DG ENTR and CEN, and in collaboration with CEN/TC250/Sub-Committee 7 and Ireland's Department of the Environment, Community and Local government.
Download Eurocode 7 : Geotechnical Design Worked Examples 
The Content is for Members Only !!!
This Book is available to download only for our Bronze, Silver & Gold Level Members, you can simply click the button below to signup / login for your membership & Download.
Download this Book