Join us on Facebook!
Stay updated with our latest construction news, tips, and updates.
Like our Facebook Page
Stucco has remained one of the most popular exterior material choices for homeowners across the US. The beautiful look, often easy-to-take-care-of nature of the material, and its budget-friendly nature have charmed millions of homeowners over the decades. When looking to take care of your stucco, however, you'll need to understand whether simple repairs or full-on stucco remediation is right for your home.
Table of Contents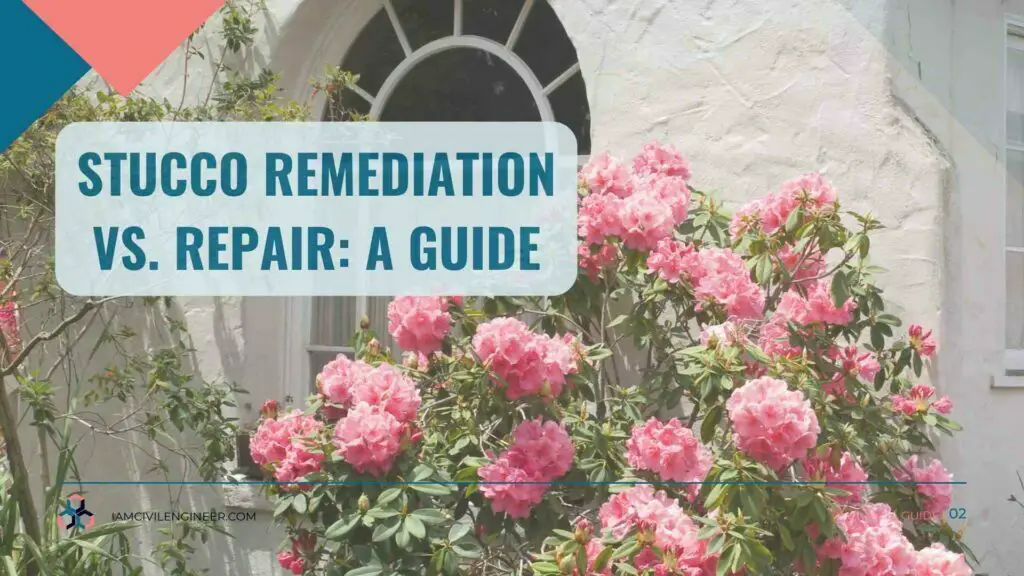 The Difference Between Stucco Remediation and Repair
There are two types of stucco work you're likely to see advertised online: stucco remediation and stucco repair. Knowing the difference between these two services can save you a ton of time, money, and hassle.
Stucco remediation is the more thorough and extensive of the two processes, and is perfect for homeowners seeking the complete stucco remediation package. The process completely replaces, repairs, and treats your stucco to get rid of any underlying issues and to make it look as beautiful as it did on the day you bought it. This work takes highly skilled, experienced remediation specialists, but it will ensure that your stucco is in a state that will keep it strong, stylish, and effective for decades to come. If you love your stucco, using remediation services is highly recommended.
Stucco repair, however, is a much simpler process. When doing repairs, stucco workers (or homeowners doing their own repairs) are focusing on one underlying issue. This repair process is typically done in small batches, and to prevent larger issues from occurring down the line. While stucco repair is great for keeping your stucco in good shape, stucco remediation is the top-tier way of ensuring your stucco lasts a lifetime.
How Remediation Can Boost Your Stucco's Longevity
Long-term solutions to stucco damage require a quality stucco remediation specialist. Especially if your stucco is suffering from widespread or extensive damage, remediation can ensure that you bypass quick or easy repairs, and push straight into long-term solutions. The amount of time and money you'll save by doing this will keep your remediation needs budget-friendly, while simultaneously ensuring the longevity of your home's beloved stucco exterior. When hiring a remediation specialist, you can also inquire about how you can handle short-term repairs in the future in an efficient, effective way. With the right amount of effort and knowledge, you can protect your stucco for a long, long time.
What Does the Remediation Process Involve?
Understanding the remediation process before investing in it can help you feel relaxed and confident about the investment. To help you feel at ease, here's a quick breakdown of what the stucco remediation process actually involves:
Firstly, and most importantly, the stucco remediation expert working on your stucco takes an extensive, thorough look at your home's exterior. This allows them to assess any existing damage to your stucco and allows them to determine any other needed maintenance that can prevent damages in the long term. This process can take a while, but having patience with your remediation expert will allow them to do their job to the best of their abilities.
Next, the full-on remediation process begins. During this step, the remediation specialist will remove damaged sheathing, and then frame, insulate, water-proof, and de-mold all of your home's stucco. Any replacements, repairs, re-installations, and other tasks that need to be completed will be taken on during this step.
Lastly, your remediation specialists will double-check your stucco and sign off on the job. During this final step, you'll have the chance to ask them any questions you have about your home's stucco, short-term repair solutions, and any other stucco-related question that you might have.
Should I Invest in Stucco Remediation?
Many homeowners have a continuous inner debate regarding whether they should handle short-term repairs as they arise, or go for the full remediation service. While short-term repairs are fine, they fail to address underlying issues that could turn into hugely expensive problems down the road. By investing in a remediation specialist, you can instead ensure your stucco is in the best shape of its life, and that you're prepared for any possible issues that might come up later. Additionally, your stucco will look shiny, new, bright, and stunning after the remediation specialist has finished performing their duties.
Keep Your Home Beautiful in 2022
By taking care of your stucco to the best of your abilities, you'll ensure that your home is absolutely beautiful in 2022 (and beyond). The more effort you put into keeping your stucco in a solid condition, the less work (and money) you'll have to throw at any stucco-related problems in the future.