Join us on Facebook!
Stay updated with our latest construction news, tips, and updates.
Like our Facebook Page
An investment in a brush grapple can make or break your ability to complete complex, important farming, and landscaping tasks. When you're using a skid steer, you'll often need a quality brush grapple to finish your tasks, after all. To help you make a solid investment, here's a handy four-factor guide to buying the perfect brush grapple for your needs:
Table of Contents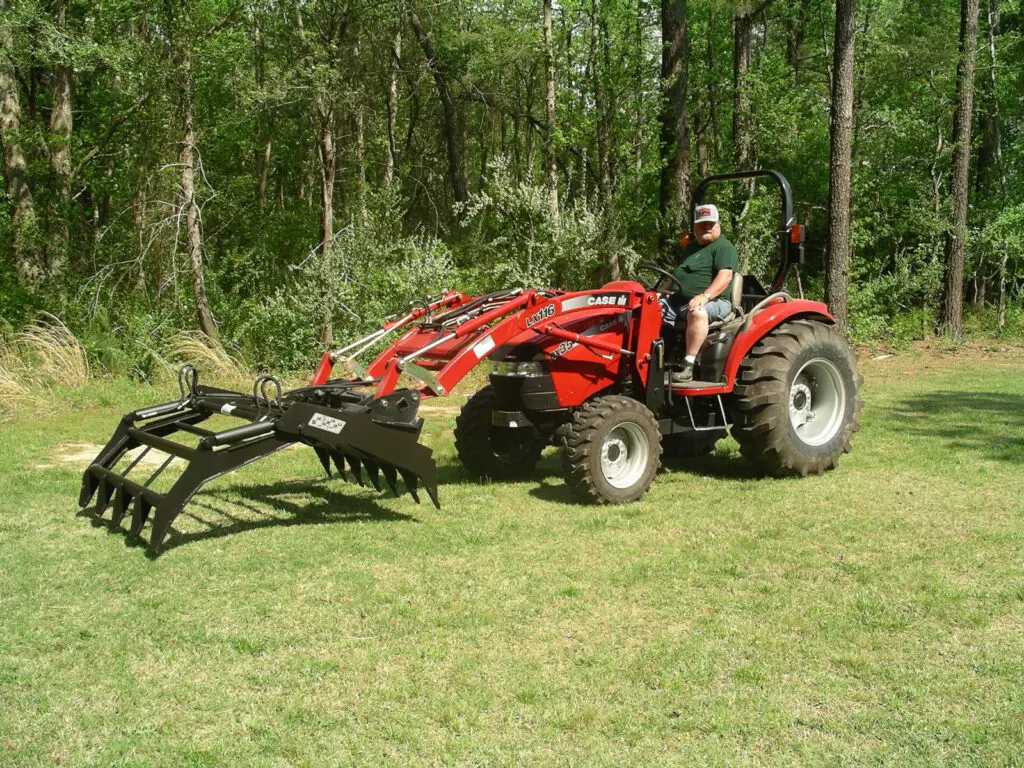 1. Know Your Exact Requirements
You must list all the necessities for your ideal brush grapple before you set off to invest in one.  Finding a brush grapple that will work well for you for many years to come will be much more likely if you spend more time on the research phase. Before making any significant investments in a skid steer brush grapple, don't be scared to consult with more experienced brush grapple users on the specifications you should list. If you do so, it will be easier for brush grapple sellers to point you toward the product that will best serve your needs. Failing to take this step seriously can put you in a position where you might make a poor, or even tragic, investment in a brush grappler for a skid steer that will not properly serve your needs.
2. Choose a Quality Design
There are only a few mistakes during the buying process that can end up negatively impacting your efficiency later on to the same degree as going with the wrong design of brush grapple. You need a design that's cohesive with the machinery you're attaching a brush grapple to, if you want to use the tool to its full potential.
Without know-how of the way, design features within brush grapple affect their efficiency and usability, making the right decision can be rough. For this reason, it's highly recommended that you always consult experienced professionals before making a final investment in a brush grapple. The width, weight limits, teeth design, and more are all incredibly important to consider, in particular.
With the right effort and grit, you'll quickly find a brush grapple that will serve you well for years to come, and ensure that you're ready to garden efficiently on any piece of land. Considering the teeth design, width, weight limits, functional capabilities, and other key factors of the brush grapple in question will help you make the right choice. Having a solid grasp on how the land you'll be working on might impact the functionality of your chosen brush grapple is critical as well.
3. Budget for Maintenance Needs
Every time you make a significant purchase, you should think about how much future maintenance, repairs, and replacement parts may end up costing you (otherwise you might find yourself running into financial trouble down the line). Consider all the warranty choices available with the items that you're truly considering while searching for the appropriate brush grapple. If you are too lax with this crucial step in the purchasing process, you might have to pay a lot more to enjoy the benefits of having a brush grapple than you're expecting to. You migh
t even gain the ability to independently perform simple upkeep and repairs on your brush grapple if you learn the expected maintenance needs associated with the model that you're purchasing. It's important to repeat, however, that consulting responsible, educated experts before making any significant choices regarding your brush grapple purchase is an absolute must.
4. Understand the Features You're Getting
The characteristics brush grapples come with are incredibly diverse, especially depending on the manufacturers that you're considering buying from.  You can make the best brush grapple purchase possible if you make yourself aware of the function of each feature your grapple comes with. You need a grapple that is loaded with characteristics that are perfect for the type of area you'll be working on.
Doing so will allow you to utilize the brush grapple more effectively, and help you quickly clear lands, brush, and other buildups on your property. The characteristics you'll need can differ greatly depending on the sort of tractor or other large equipment you're attaching your brush grapple to. Studying the options available to you, and reading consumer reviews of any brush grapple you're looking at will ensure you make an educated and responsible investment.
Never Settle for Less than the Best
When buying a piece of equipment as expensive as a brush grapple, you should never settle for less than the best. If you do so, you'll almost certainly regret cutting corners on such an important investment in the long run.