Join us on Facebook!
Stay updated with our latest construction news, tips, and updates.
Like our Facebook Page
Outdoor pavilions are a perfect way to maximize the comfort and style of your home's outdoor space. With the right design setup, you can make your outdoor pavilion look exactly like it has in your dreams. To ensure you handle the design process as effectively as humanly possible, here are eight highly unique and useful pavilion design tips you should know about:
Table of Contents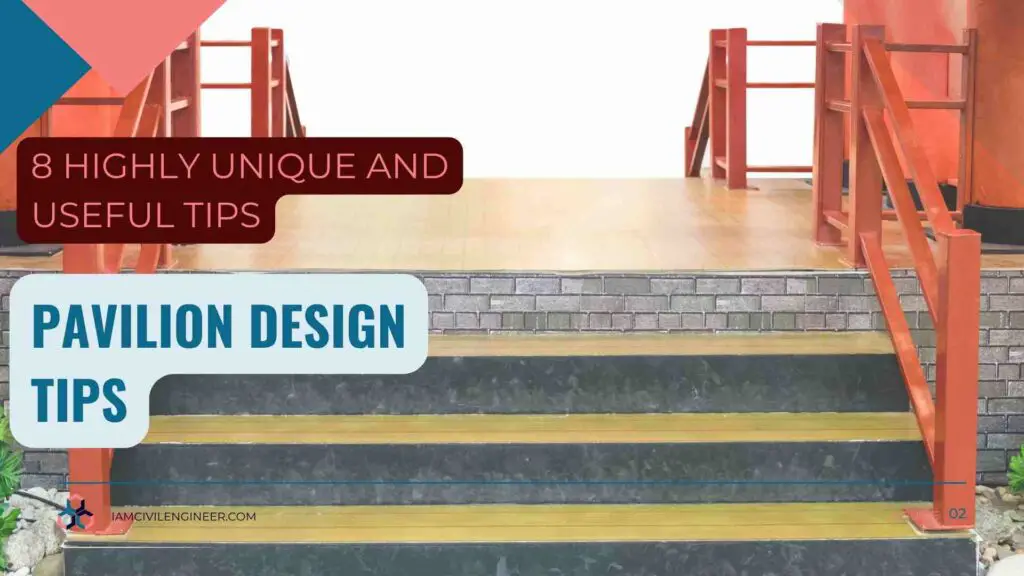 1. Customized Shade Setup
Do you want to enjoy your pavilion no matter what weather the world throws at you? If so, you need to invest in a customized shade setup. In addition to keeping the sun out of your eyes, customized shades can also be built to help fend off strong winds, rains, and other inclement weather. To ensure your pavilion is not damaged by harsh weather, this design tip is a must-follow.
Also Read; 7 Ideas For Styling A Contemporary Living Room
2. Beautiful Timber Materials
Choosing the right building material for your pavilion is key to unlocking your dream design. Depending on the area you live in, the aesthetic of your home, and the ways you'll be using your pavilion, you'll have a lot of potential choices to consider. In almost all situations, however, beautiful timber frame pavilion kits can be used to help you build a pavilion that will have everyone in the neighborhood buzzing.
3. Backyard Bar Add-On
For those who love to host, socialize, and party, having a backyard add-on built into your pavilion is a guaranteed hit. Because this add-on has become so popular in recent decades, it's become much more affordable to execute as well. You can have a legit draft beer setup, cooler, and more that will make your backyard bar as comfortable and efficient as any professional dive bar in town, after all (so what are you waiting for).
4. Outdoor Living Room Style
If you're looking to use your pavilion for intimate get-togethers, or just want to use it as an outdoor living space, you need to consider design choices that will make it function as an outdoor extension of your living room. Using the right outdoor furniture, comfort add-ons, and internet-enabled technology in your backyard pavilion can ensure you nail the living room style with your design choices. Be sure to consider how to weatherproof your pavilion properly if you go with this living room style, however.
5. Built-In Pizza Oven
Pizza is a dream food. For many people, having pizza for nearly every meal would be an absolute godsend. If you want to bake restaurant-quality pizzas from the comfort of your backyard, installing a built-in pizza oven in your pavilion is a stellar solution. You can go with brick or wood-fired styles, and achieve the pizza recipe and cook style that's right for your tastebuds. This amazing setup will give you everything you need to become as talented as a professional pizza chef.
Also Read: Importance of modular kitchen at home
6. Industrial Fan Power
Even with a stellar shade setup, the outdoors can become super hot during certain months. For some people, having a consistent breeze is key to being comfortable, no matter what temperature it may be outside. By installing an industrial-style fan in your pavilion, you can keep your comfort levels perfect, no matter what time of year it may be.
7. Quirky DIY Decorations
To truly make your pavilion your own, you need to invest in decorations that scream you. One of the best ways to achieve this aesthetic is by using DIY decorations and family heirlooms. By doing so, you'll give everyone who visits your pavilion something to remember you by. The budget-friendly nature of this creative, emotionally-satisfying decoration style is important to highlight as well. If you want to stay true to yourself, and trendy at the same time, you need to gather together some quality DIY decorations for your outdoor pavilion.
8. Built-In Customized Seating
Lastly, if you want to feel comfy and relaxed each time you use your pavilion, you need to install fantastic built-in seating to your setup. Consider the dimensions of your pavilion, and the reasons that you're building it in the first place, to ensure you invest in seating that will be both effective and durable. And don't forget to weatherproof your built-in seating to protect your investment!
Make Your Pavilion Perfect
With these incredibly unique design tips, you can make your pavilion absolutely perfect. You'll be investing a fair amount of time and money into your pavilion, after all, so you need to ensure your maximizing the proficiency of its design. In doing so, you'll unlock an outdoor space that will bring you joy for decades to come.
Further Read: The Ins and Outs of Suspended Ceilings You must Know