If you want your gardening and landscaping projects to be luscious, impressive, and healthy, you need to invest in the right type of mulch for the specific tasks you're taking on. With no prior know-how of what different types of mulches do, however, this task can become difficult. To ensure you make the right decision, here's a guide that covers the eight ideal mulch types for creating a luscious landscape: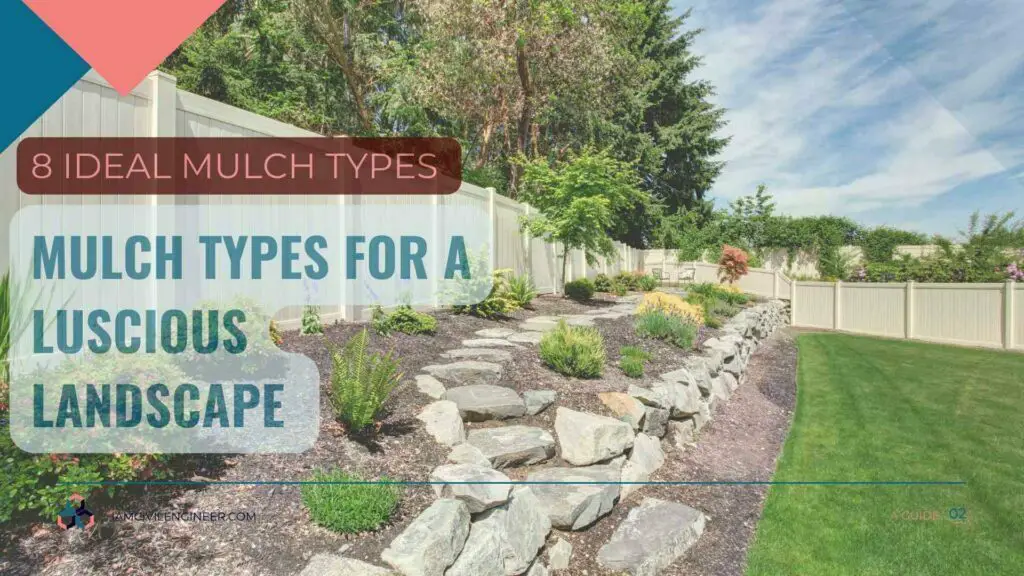 1. Wood Chips
Wood chip mulch is one of the most popular types of mulch out there. If you've ever bought popular mulch products from Home Depot, or a similar store, you've likely bought wood chip mulch before. You can get this mulch in natural wood colors, or jet-black varieties, so you can unlock a ton of aesthetic variety in your gardening efforts by using wood chip mulch. Getting quality topsoil delivery is especially easy and budget-friendly if you go with wood chip-based
mulch.
2. Shredded Leaves
Shredded leaves are one of the more common natural-compost style mulches out there. If you live on a piece of property that's surrounded by dense amounts of trees, you can even gather up fallen leaves and create your own shredded leaves-style mulch. Just be sure to avoid applying this mulch type in thick layers, as it can cause matting that will over-pack moisture into the garden bed that you're treating.
3. Composted Animal Manure
If you want an easily accessible, highly-efficient, and natural compost-style mulch, you want to invest in composted animal manure. You can purchase this mulch manure at most gardening stores, or from your local farms. Be sure to let the manure sit for at least a day before using it if you're gathering the manure from your own animals, as fresh manure can actually burn and damage plant roots (or spread harmful diseases among your plants).
Also Read: 5 Simple Tips For Moving On A Budget
4. Rubber Mulch
For those who want a mulch product that's made using almost 100% recycled materials, rubber mulch is the way to go. Rubber mulch is incredibly affordable, and is typically used by businesses, and public places that are looking for a quick way to mulch large swaths of land. While rubber mulch will not be effective for all plants, it can provide a quick and cheap mulching solution for most plants.
Also Read: 5 things you should do now to prevent water damage
5. Cocoa Chips
For a uniquely rich and colorful mulch product, homeowners should seriously consider investing in cocoa chip-based mulch. This mulch is crafted using cocoa bean hulls and is known for being both lightweight and beautiful. That being said, cocoa chip-based mulch also decomposes much quicker than most other mulches on this list. For this reason, cocoa chip-based mulch is often only bought by those with a particularly large landscaping budget. The fact that cocoa chip hulls can be toxic to some animals also prevents homeowners that own pets from using this otherwise-stunning mulch product.
6. Landscape Fabric
For a simple, affordable, and easy mulch solution, you should seriously consider the benefits of using landscape fabric as a mulch substitute, or as a way to strengthen your mulching efforts. Landscape fabric is pulled tightly over your garden's soil surface to help retain moisture, and prevent the soil from suffering intense sun damage. The fabric is easy to install and fairly cheap. However, it will have to be replaced every month or so if you want to unlock its full potential and gardening benefits.
Also Read: 9+ Home Building Trends to Watch
7. Newspaper Mulch
If you want a mulch solution that's made from 100% recycled materials, you need to check out the many high-quality newspaper mulch products on the marketplace right now. This mulch solution is perfect for homeowners who are only mulching small garden spaces, potted plants, and other minor jobs. That being said, if you're using your own newspaper to save money, avoid using colored newspaper, as it can sometimes have toxic materials that will harm your plants.
8. Crusher Dust
Lava rock-based mulch, also known as crusher dust, is one of the more visually stunning mulch products out there. If you want a stone-based mulch product that requires very little maintenance, and which only needs to be spread amongst your plants every few months, this is a great option to consider. The fact that crusher dust is ideal for keeping moisture levels retained in a fashion that's healthy for your plants makes it that much more attractive. That being said, crusher dust is only meant to be used as mulch for certain types of plants (so be sure to do your research).
Unlock the Perfect Mulching Setup
By using the information in this guide, you can easily discover which mulch product type is best for your gardening and landscaping needs. With the right luck, determination, and good-old effort, you'll make your garden and landscaping products more impressive than you ever thought possible.
Further Read: Top 7 Factors That Affect A Property's Saleability