Decks are one of the most loved and frequently taken-on home improvement projects out there. For homeowners who want to make their home's exterior a joy, and boost their home equity along the way, designing and building a quality deck is a fantastic option. There are so many amazing ways to make your deck's design unique and efficient, so educating yourself is key. To ensure you build the deck of your dreams, here are eight fantastic deck design tips that you simply must know about in 2022:
Table of Contents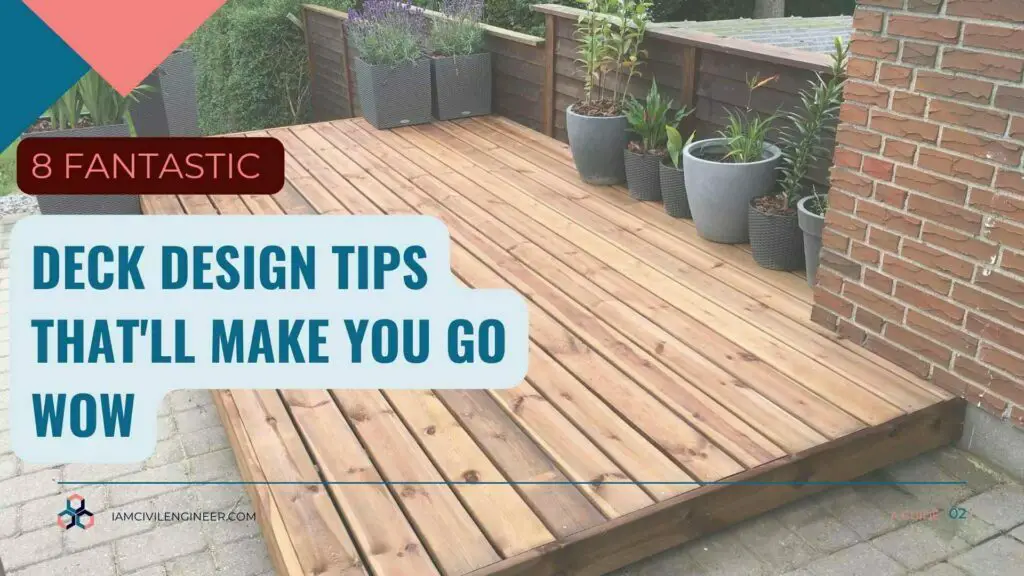 1. Use the Right Stain
Being assured that you're investing in a quality stain color and style is key to making your deck pop. If you go with a stain color or style that does not match your home's larger aesthetic, you'll regret your choice in the long run, and could possibly decrease the home equity value of your deck in the process as well.
2. Design for Your Lifestyle
Knowing the why, how, and what of your reason for building a deck in the first place is key to unlocking the perfect deck design. Think of what you'll be using your deck for, why you're building it the way you are, and how you'll finance your project, and you'll be ready to unlock your dream deck. Finding an experienced deck builder in your area can help you answer these crucial questions with ease.
3. Lighting is Key
If you want to enjoy your deck to the fullest, you need a lighting setup that will accommodate your deck-based activities. If you're looking for chill, calm nights outside, you'll want lighting that isn't too harsh (such as beautiful string lights). On the other hand, if you love to throw parties, you'll want lights bright enough to keep everyone safe and to ensure that the party vibes are flowing freely. 
Also Read: Custom rugs for Business- How to go for a smart buying
4. Consider Sun Damage Possibilities
One of the biggest oversights homeowners make when designing and working on their decks is failing to consider sun damage hazards. By sun-proofing your deck early on, you can ensure that the wood (or other materials) it's built from does not fade in just a few years. Doing so can save you a ton of time, money, and hassle, so make sure to take this tip seriously!
5. Treat it Like a Living Space
Even if you're building the deck simply for hosting and get-togethers, you need to design it as though you're adding a whole new living space to your home. Doing so will ensure it's given the proper care, thought, and consideration needed to make it a successful deck project, after all. Consider how you've designed other areas of your home for your living space needs, and you'll quickly find the design solutions that you're looking for.
6. Bigger is Better
While many people opt for small decks, bigger is almost always better when it comes to deck design. Not only does this give you more space for relaxing, hosting (or just living), but it ensures that you will always have extra space to play with if you want to make future additions to your deck's design as well. Just make sure you do not overwhelm your home's outdoor space with a deck that is too big.
Also Read: Tips for a Dreamy Bedroom 
7. Waterproofing Ideas
Sun damage is not the only hazard you need to worry about when building and maintaining your home's deck. Keeping the deck's materials as waterproof as humanly possible is of utmost importance. Fixing water damage on decks is not only an aesthetic nightmare, but it can cost you big time. Because many materials have to be replaced when water damage occurs, you'll want to get ahead of the game and use waterproofing products to protect your home's beloved deck. And make sure to keep your outdoor furniture as clean as can be!
8. Acoustics are Important
Lastly, and especially if you plan on hosting large parties on your deck, you'll need to consider the acoustics of your deck's design. In doing so, you'll make sure bands can play effectively on your deck, and that a large group of people does not become a sound-based nightmare any time you have a huge get-together. The complexity of this element of deck design requires a professional's touch, however.
Your Dream Deck Awaits
With these eight design tips, you can easily unlock your dream deck design. Having the patience to carefully consider all of your design choices, and their implications, are key when designing your deck. Once you've given the project the thought it deserves, you'll be one step closer to having a deck that will massively boost your quality of life (as well as your home's equity value).
Further Read: How to plan for a perfect home remodel?