Join us on Facebook!
Stay updated with our latest construction news, tips, and updates.
Like our Facebook Page
Commercial roofing is a booming aspect of the American economy. For this reason, the amount of roofing style choices available to companies in today's business world is more robust than ever before. With all of these available choices, finding the right roofing style for your business can be tough. Choosing the right style of roofing can save your business a ton of money, and help your building look more stunning than ever before. To help you out here is a handy guide to the seven most popular commercial roof materials and styles: 
Table of Contents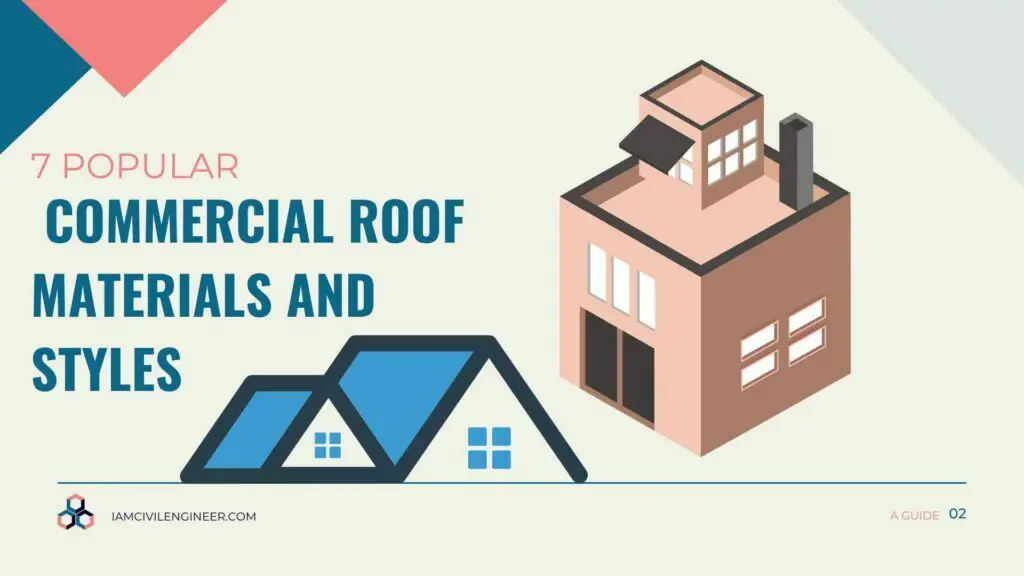 1. Rubber/EPDM
Rubber-style roofing (also known as EPDM) has many amazing benefits. Not only is it waterproof and durable, but the rubber membrane of this roofing product is incredibly simple to repair. Due to this, it's cheap and fast to perform any needed roofing maintenance down the line if you invest in rubber-style roofing. Reroofing jobs are also benefited from using rubber materials and can save you even more money that you can use for other essential business needs.
Also Read: Difference between residential & commercial Roofing
2. Metal Wall Panels
If you want a nice, modern look for your business roofing, you want to go with metal wall panel-style roofing. While it may seem strange to use "wall" panels for your roofing, the aesthetic it provides is sleek and cool. For more industrial-centric businesses, this look can make you stand out amongst your competitors with ease as well. For advice on what roofing is most suited for your business's needs, contacting a local commercial roofing contractor is highly recommended.
Also Read: 4 Benefits of Using EPDM For Your Flat Roof 
3. Metal Roofing
For those who are looking for more traditional metal roofing, you want to go with what you would typically consider "metal roofing" (instead of paneling). Metal roofing is most well-known for how incredibly energy efficient it is, as it's able to keep cold and warm weather leakage from running up your energy bill to an insanely high amount. There are also many eco-friendly benefits to installing metal roofing on top of your business building as well.
Also Read: What to look for when hiring a roofing contractor? 
4. Tile
If you want to truly stand out from other businesses in your area, tile roofing is a fantastic solution. Not only is tile roofing absolutely stunning, but it has a mid-century charm to it that can benefit the curb appeal of your business. From New England Colonial fashion to Spanish-inspired flair, tile roofing has been defining the style of successful business locations for many, many decades. Modern tile-style roofing has even more aesthetic capabilities, so you can find the exact roofing look that you're looking for (and for a great price).
ALso Read: How to choose the best Roofing Material?
5. Slate
One of the most commonly used roofing products, slate has been widely known as a tried-and-true roofing product. You can use slate in a more customized fashion as well, as you can get it in a variety of sizes, shapes, and colors. The durability and simplistic maintenance needs of slate roofing have made it that much more popular, especially among budget-conscious business owners looking to save a buck.
6. Spray Polyurethane Foam
Not all businesses need roofing that is fancy or meant to be aesthetically appealing. If you want roofing that's simple to install, and which can immediately get you results, you should consider spray polyurethane foam roofing. This spray roofing immediately covers the existing surface of your building's top and provides solid insulation and weather protection for your business. That being said, you often have to combine spray polyurethane foam with other roofing products to ensure your building is fully protected.
7. Shingles
Shingles are not as widely used for business roofing these days, but they can still provide an affordable and quirky choice for business owners looking to stand out. They are not only economical, but they are well-known for being perfect for environments with mild year-round weather as well. If you go with a nicely-finished set of shingles for your roofing, you can make your business appear similar to a more down-to-Earth family home (which can be beneficial depending on what line of business you're in).
Also Read: Chimney Cricket and its flashing with roofing system
Various Other Coatings are Available
There are many types of complex, yet effective coating-style roofing choices your business can use as roofing. If you get a well-done coating to protect your existing roofing, you can avoid buying new roofing altogether. The de-installation and reinstallation process can become expensive quickly, so many businesses are choosing to use coating-style roofing in today's recession-restricted economic landscape. If this sounds good for your budgetary needs, you should look into the many various coating solutions that can help you with your business's roofing needs.
Further Read: Roof Maintenance Tips 2022