Join us on Facebook!
Stay updated with our latest construction news, tips, and updates.
Like our Facebook Page
Business owners are constantly looking for ways to ensure their business not only looks professional but that it's prepared to handle foot and car traffic at all hours of the day. To achieve this level of success, business owners need to hire professional companies to handle all their maintenance needs (especially when it comes to paving needs).
Here are just eight crucial benefits commercial paving provides for business owners:
Table of Contents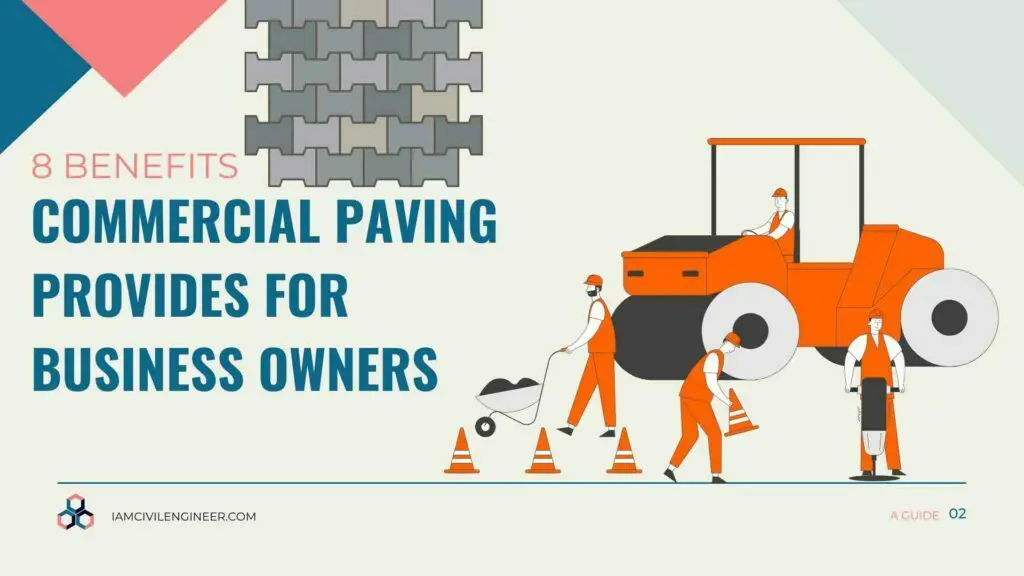 1. Simplify Your Updates
Trying to update your paving needs on your own can lead to tons of complications, and unforeseen costs. To keep the update process simple, and to ensure you're getting the best work possible, you need to hire a professional to get the work and updates done right the first time around. Quality commercial paving companies have the know-how and equipment to ensure your paving projects are done both quickly and correctly, after all.
2. Trust that the Job is Being Done Right
Trusting your own work on a paving project is difficult. Even if you've handled your business's paving needs before, you've likely noticed that you find yourself stressed about the actual quality of your work after you've completed updates. Once again, you can ease your stress, and focus on what's really important with your business, by hiring a commercial paving company that knows exactly what they're doing. If you do so, you'll know that you can trust that the paving job is being done right.
3. Go Eco-Friendly
Paving has become one of the more eco and environmentally-friendly business update projects around in the modern day. You can use green concrete products, such as porous asphalt, to keep your sidewalks, parking lots, and business foundations in solid shape while simultaneously doing your part in saving the planet. Depending on what locale you're doing business in, you may even unlock some tax write-offs by using eco-friendly, green concrete products for your next asphalt update project.
4. Recycled Materials are Possible
Beyond green concrete materials and paving options, there are many recyclable-heavy materials you can choose from. By using these, you can also save tons of money that you can use for other needed business projects. Old asphalt can be turned into a brand-new product via pulverization and other modern techniques, so you can break down unneeded concrete areas of your business to help you create a fully recycled asphalt product pool for your new business update project.
5. It's Incredibly Budget-Friendly
Even if you go with a normal asphalt or concrete product, using a commercial paving company for your company's needs is one of the most budget-friendly ways to make your business both more accessible and professional. Use seal coating and other products that will keep your asphalt in great condition for decades to come and you'll unlock even more amazing cost-saving benefits.
6. Maintenance Needs are Simple
Once you've allowed commercial paving companies to handle your asphalt needs, you'll have the ability to handle minor maintenance all on your own (as long as you follow the given directions exactly). Thankfully, doing so has become easier than ever before. Even if you do not feel comfortable handling minor repairs on your own, you can rehire a trusted commercial paving company to handle this maintenance in a cost-effective, and professionally effective fashion.
7. Flexible Options are Available
Your choice of materials is abundant when hiring a commercial paving company to handle your business needs. If you want to avoid having to go with a simple choice, simply because better asphalt options are out of your wheelhouse, you must hire a professional commercial paving company to get the job done correctly. Depending on where you're doing business and the state of the foundation you're paving, you may need a wide variety of products to ensure your investment lasts for decades to come.
8. Stand Out Amongst Competitors
Having professionally done paving projects is a key way to make your business shine. If you want to appear more professional and stand out amongst competitors in your area, you need to beautify and fortify your business's location as much as humanly possible. Thankfully, a solid commercial paving company can do this for your business with ease. Determine your business needs, and you'll be ready to get your asphalt and commercial paving projects completed in no time.
Paving Projects Made Easy
Business owners can easily avoid stressful situations revolving around pavement and asphalt projects by hiring commercial paving companies that they trust. For new businesses, making your location seem as polished and new as possible is especially important – so do not fret about investing in this quality service!