Join us on Facebook!
Stay updated with our latest construction news, tips, and updates.
Like our Facebook Page
Cabin homes are some of the most beautiful, unique, and cozy home styles out there. If you want to make your cabin feel as though it was truly meant for you, however, you need to give serious thought to its interior style. To assist you on this journey, here are eight unique, quirky cabin home decorating tips:
Table of Contents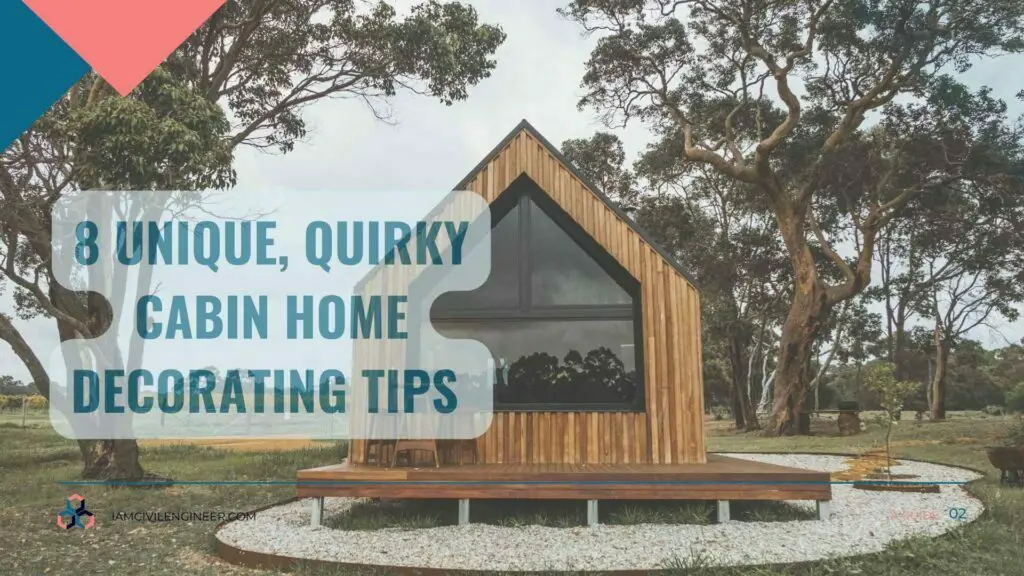 1. Down-to-Earth Lighting
If you're buying or custom building a cabin, you are likely doing so because you want a down-to-earth, comfortable lifestyle. To achieve this goal, you'll need to focus on the interior lighting of your cabin. Get a setup that emphasizes a natural light flow during the day, and a warm, cozy lighting setup during the night. Doing so can ensure that you'll be ready to relax 24/7 in your ideal cabin space.
2. Eclectic Patterns
Many quirky cabin owners push back against the minimalist design ethos that other cabin owners follow. If this sounds like what you're aiming for, you need to invest in some colorful, eclectic patterns to decorate your cabin's interior with. Go crazy with your choices, and find the right fabrics for your personality. Especially if you're investing in park model cabins and other unique cabin setups, you'll want to show off your wild side.
3. Fur, Fur, Fur
Who doesn't love a solid fur throw? If you can invest in full swaths of animal fur, you can really make your cabin's interior feel authentic and wild. Bears, deer, and moose are the classics in this area, but you can get creative with your fur decor settings to make your cabin feel truly unique. For those who do not want to use real animal products, there are plenty of faux furs that look just like the real thing that you can use to make your cabin look beautiful (and so in a cruelty-free fashion).
4. DIY Decorations
For those who want to be truly original, you need to take the time to flex your creative muscles and create beautiful, memorable DIY decor for your cabin's interior. Find old family heirlooms, newspapers with interesting stories, or old wooden wheels to get the job started. Your mind's ability to create is the only limiting factor here, so shoot for the stars when you begin creating fantastic DIY decorations for your cabin.
5. Quality Candles
Sometimes you need a break from your quirky, manic energy. When this time comes, you'll want some quality candles to help you enjoy gentle lighting and some delicious scents. Look around at local farmer's markets and you can find candles that will not only have truly unique scents, but that will last for much longer than most store-bought candles as well. And you'll be helping to boost your local economy!
6. Gorgeous Leather Furniture
Few types of furniture look more apt, and more stunning, in cabins than quality leather furniture pieces. These gorgeous furniture pieces can be quite expensive but are much more affordable if you buy them second-hand. Many people even prefer buying leather furniture second-hand so that they do not have to go through the sometimes-frustrating process of breaking the leather material in.
7. Classic Stoves and Fireplaces
Especially if your cabin is out in the countryside, you'll want a convenient (and fully reliable) way of keeping warm during the winter months. Having classic-style stoves and fireplaces is the best way to ensure your comfort and warmth during these cold months. Additionally, the sheer style boost these items will bring to your quaint-but-quirky cabin home is hard to beat. If you really want to stand apart from other cabin owners with your decor scheme, and sense of style, you need to seriously consider investing in a stove or fireplace that will stick in every visitors' memory (or you could even invest in both)!
8. Plants are Everything
Do you want to have a home that's both quirky and cozy? If so, you need to have some quality houseplants to keep you company. Not only will they beautify your home, but they will greatly boost the oxygen levels of your home as well (while keeping the air fresher simultaneously). If you're worried about your ability to keep plants alive, you can save yourself some grief and cash by investing in fake plants that will match the rest of your cabin home's interior style.  
Unlock Your Dream Cabin in 2022
With these eight decorating tips, you can truly unlock your dream cabin in 2022. Stay true to yourself, embrace your quirky qualities, and you'll easily find the right decor choices to make your cabin's interior pop.
Further Read: IMPORTANCE OF INTERIOR DESIGNS FOR HOTELS