A quality deck is one of the best ways to unlock the full comfort potential of your home. Additionally, the amount of home equity a solid deck can add to your home is hard to overstate. If you're looking to improve upon your deck or build a brand-new one, here are ten useful ways to perfect your unique deck setup:
Table of Contents
1. Boost Its Perimeter
If you want to unlock your dream deck, you need to expand upon the square footage of your deck's usable space. Even if you have every other aspect of your deck perfectly designed, it will fail to live up to your hopes and dreams if you do not expand it to a size that's right for your needs. Whether you simply love having a huge deck or hosting massive parties, boosting the deck's perimeter is essential. Finding a quality deck builder near you will ensure that you unlock your dream deck design.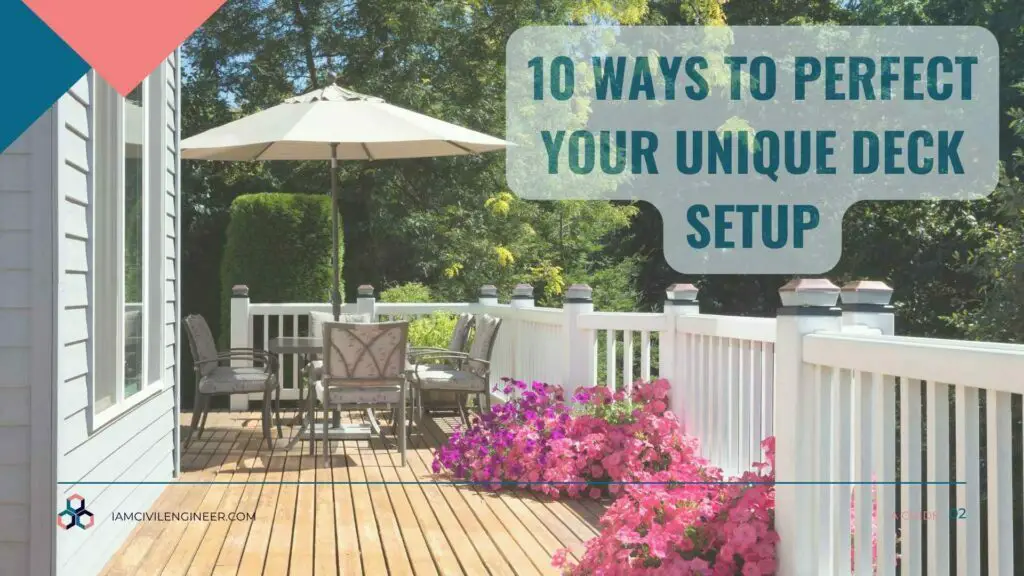 2. Add-On Lighting Capabilities
Brightening up your deck is easy with the right lighting setup. Consider how you prefer using your deck, and then create your custom lighting setup from there. If you're looking for a relaxing space to enjoy at night, go with lights that are good for keeping your surroundings visible, but that are not overwhelmingly bright. If you're hosting a lot of activities and get-togethers, you might opt for something a bit more powerful instead.
3. Pavilion Addition
Few projects can revolutionize your deck's comfort, style, and efficiency quite like a pavilion add-on. Pavilions give you extra shade, comfort, and storage capabilities, all while adding a heightened sense of class to the space. If you're looking for a more expensive deck project that will both up your home's equity, and its inviting nature, you need to seriously consider adding a pavilion onto your deck.
4. A Quirky New Paint Job
Beyond lights, a solid paint job is one of the best ways to reinvigorate the look and feel of your deck. If you're wanting to stand out among other homeowners, consider a quirky, flashy paint job in 2022. Finding a paint that stands out, but does not clash with your home's overall aesthetic is key. Depending on the color of the paint you choose, this can also be a fairly budget-friendly deck add-on project.
5. Increased Privacy
Pavilions are not the only way to add more privacy to your deck's design. Adding shade stands, covers, and other privacy-boosting add-ons to your deck can give you the privacy and comfort you deserve. Especially if you live in a crowded area, having the proper amount of privacy built into your deck's design is a necessity – so don't wait up on adding the privacy options that you're desiring!
6. Beautiful String Lighting
String lighting is one of the most affordable ways to add a trendy, beautiful new aesthetic to your deck's setup. These lights are also incredibly soft, which makes them great for homeowners who want a relaxing, laid-back environment on their deck. You can invest in customizable LED string lighting to really push the project to new heights (and allow yourself to change the mood of your deck's lighting at your whim).
7. Extend Your Space
Adding space to your deck is not all about square footage. In some cases, knowing how and where to extend your deck's space is key. You may even want to simply add built-in seating to certain sections of your deck in 2022. Whatever the case is, making the right choice with how you extend your space will make or break your ability to fully customize your deck's unique design.
8. Grill-Friendly Add-Ons
Who doesn't love a solid grilling get-together? Many people build their decks simply to host grill-heavy nights, after all. If you want to optimize your outdoor grilling capabilities, you need to add as many grill-friendly add-ons to your deck as humanly possible.
9. Plants, Plants, Plants
Few add-ons are as affordable and mind-blowingly beautiful as simply adding tons of new plants to your deck. Taking care of them is key, however, so make sure you're ready to dedicate yourself to the job. If you're ready, you can find your favorite plants, and make your deck look more natural and inviting than ever before.
10. Modernized Digital Possibilities
If you're spending tons of time on your deck, you need to consider making it modern and digitally friendly. Add electrical outlets, USB ports, easy-to-access internet, and other modern amenities to your deck to make it a true marvel.
Enjoy Your Newly Revamped Deck
With any of these ten additions, you'll have a wonderful, newly revamped deck to enjoy. Homeowners not only gain a new sense of comfort with a quality outdoor deck but increased home equity. With that being said, stop putting off your deck-building dreams and get to work right now!
Further Read: Top 7 Factors That Affect A Property's Saleability