Join us on Facebook!
Stay updated with our latest construction news, tips, and updates.
Like our Facebook Page
Cottage homes are becoming more popular than ever before in the last decade. Especially for those who love living out in the country, the charm of a cottage home is immense. To make your cottage home perfect, however, you need to have a solid grasp of your design choices. To help you on this exciting journey, here are ten unique, quirky cottage decorating and design ideas for 2022:
Table of Contents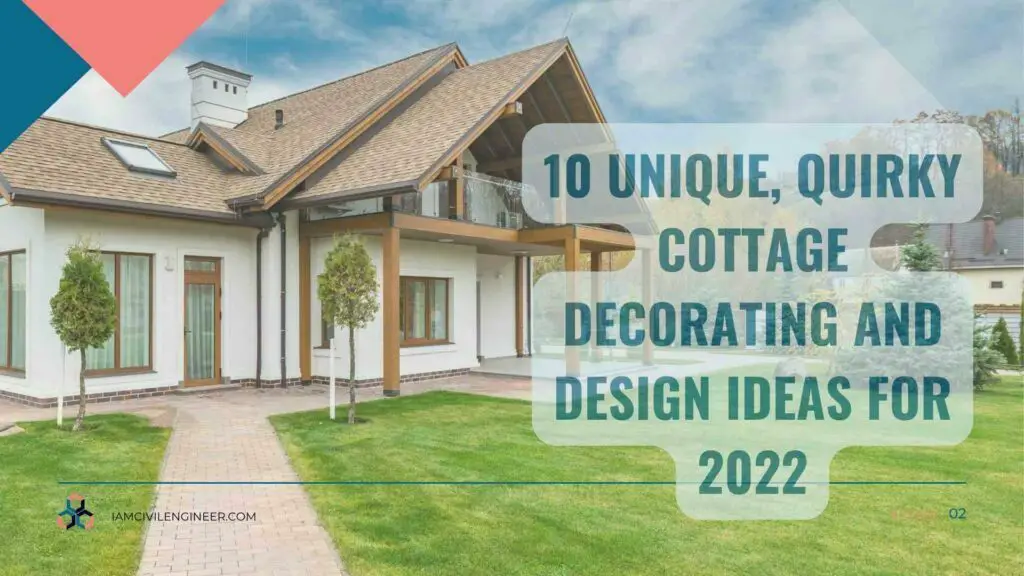 1. Bold, Classic Color Schemes
When you're designing a cottage, you want to look toward classic, down-to-Earth design inspiration sources. Unlike more modern homes that go for more "neutral" tones, you want bold, classic color schemes to define your living space. The more creative you can get with these classic color profiles, the better, however. Finding the perfect mix of classic and new is the goal here, after all.
2. Professional Design Improvements
Whether you're renovating an old cottage or having a brand-new cottage built, you'll want to consider all the ways you can improve upon the initial design. With the help of a custom cottage builder professional, you can quickly determine where improvements, alterations, and full-on renovations will benefit your cottage's overall design. Just make sure to stay within your budget range as you dream up the perfect design!
3. Pre-Used Wooden Furniture
Wooden furniture is the go-to furniture style choice for cottage-style homes. Not only do they have that down-to-Earth feel that you're almost certainly looking for, but the sturdy and comfortable nature of wooden furniture is hard to beat. By buying pre-used wooden furniture, you can both save money, and add a more authentic "retro" look to your cottage home's interior. If you want to make your home energy-efficient as well, be sure to invest in quality home automation devices that will keep your bills low!
4. Beautiful Checkered Patterns
In addition to bold, classic color schemes, simple-yet-stunning design patterns are a key for cottage homes. Checkered patterns are especially popular, and beckon back to the 1800s design aesthetic in the best way possible. You can make a checkered pattern with almost any color scheme, which allows you to buy (or custom make) the right cloths, covers, and wallpapers for every room in your cottage home with relative ease.
5. Classic Iron Bed Frames
Having the right bed frame for your home's aesthetic is crucial to completing the overall look of your cottage home. Iron bed frames are an easy fix if you're struggling to find a bed frame that does not look out of place with your cottage-core interior design choices. Additionally, you can buy these types of frames pre-used (which once again will help you save money as you beautify your cottage home's interior).
6. Claw-Foot Tubs
The most classic tub style in existence, claw-foot tubs are seeing a huge comeback in recent years (in cottage homes, and otherwise). If you want your tub time to feel luxurious and classy, you'll love the full-bodied, deep, and unique nature of a claw-tub's build. While these tubs can be fairly expensive, they are hands down the best tub style you can invest in when designing the interior aesthetic of a cottage home.
7. DIY Decorations Galore
You've invested in a cottage home because you want to feel classy, original, and true to yourself. With this in mind, investing in (and creating) DIY decorations is an absolute must. Wow everyone who enters your home by having hanging (and other) decorations that you made yourself (or that you found and repurposed for decorative purposes). To those who are looking to truly unlock their creative potential, DIY projects are highly recommended. This tip is especially fantastic for "tiny" cottage homes (which are being built more often than ever before).
8. Retro Wallpaper
If you do not want to go with a simple, single-color scheme for your cottage's rooms, you'll want to consider aesthetically appropriate alternatives. Properly retro wallpaper designs are a great way to add flair to your cottage home's exterior without going overboard and becoming too "modern" with your design choices.
9. A Useful Mudroom
Many cottage homes are built in the country. If you love outdoor activities, or simply want to keep your home protected from nasty outdoor materials and debris, you should seriously consider adding a mudroom to your cottage home. Not only will this unlock a cleaner household, but it will greatly boost your home's equity value as well.
10. Whatever You Want
Lastly, you should simply sit down and think about what you truly want your cottage home to look like. Even if it clashes with the "classic" style of a cottage home, your aesthetic desires are ultimately much more important than following the pack. If you need help with ideas, sit down with a custom cottage builder to brainstorm.
Live in Your Dream Cottage
With these ten design tips, you'll unlock your dream cottage design in no time. Keep your design choices budget-friendly, and run them past a cottage design professional, and you can rest assured that your project will come to fruition with ease.