Join us on Facebook!
Stay updated with our latest construction news, tips, and updates.
Like our Facebook Page
Hardy Slab is a type of generally seen in Dubai and China. Hardy slab is also known by names hourdi slab or hordi slab. This slab is constructed by hardy Bricks. Hardy bricks are hollow bricks and made up of concrete. Hollow blocks are used to fill portions of the slab thickness. It saves the amount of concrete and hence the own weight of the slab is reduced. This kind of slab has a more thickness when compared with the conventional slab.
The thickness of hardy slab is 0.27m. The method of installing Hardy slab is different from normal process. Hardy slab is one type of concrete slab.
It is constructed using hardy bricks which significantly decline the amount of concrete and eventually the slab's self-weight. The thickness of hardyslab is around 270mm.
The construction of hardy slab involves formwork installation, hardy block placement, placement of reinforcement into gaps between blocks, placement of steel mesh on the blocks, and finally pouring of concrete.
It is economical for spans of length up to 5m, and it reduces the quantity of concrete below neutral axis, and moderate live loads shall be imposed. It is constructed at locations where the temperatures are very high. The application of this type of slab can be seen in Dubai and China.
The dimensions of Hardy brick is 40cm x 20cm x 20cm
The process of execution is as follows:
Step 1   : Formwork is arranged and then shutters are fixed on the formwork.
Step 2  : Hardy blocks are placed on the shutter with one brick gap on the entire shutter.
Step 3  : The gaps between the bricks are called as rib. Reinforcement is provided in a form of beam within the gap.
Step 4  : After placing the rib, the plane steel mesh is placed on entire slab area resting on ribs.
Step 5  : Now pouring of concrete is done on slab.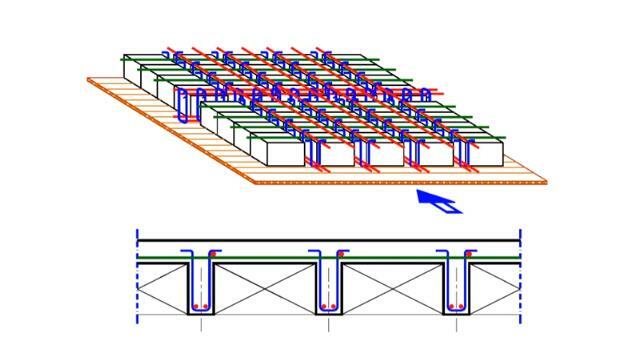 Table of Contents
Applications & Uses
Hardy slab is used where temperatures are very high. To resist the temperature from top the slab thickness is increased. Heat coming from walls is resisted by using special bricks which has thermacol in it. Thermacol is a best insualtor of sunlight.
Advantages:
Reducing slab weight by reducing amount of concrete below neutral axis.
Ease of construction, especially when all beams are hidden beams.
Economic for spans > 5m with moderate live load: hospitals, office and residential buildings.
Improved insulation for sound and heat.
Disadvantages:
If not properly handled, the hollow core ribbed brick units may be damaged during transport.
Not economic for small spans.
Difficult to repair and strengthen
Hardy slabs are further classified into two types:
One way Hardy Slab
Two way Hardy slab