Join us on Facebook!
Stay updated with our latest construction news, tips, and updates.
Like our Facebook Page
 When you're a contractor, you require different types of heavy construction equipment in your pool to undertake jobs efficiently and within the time frame of the project. 
If you look at the classification and list of tools you'll find that all specific actions on the project site require relevant machinery. Some are repeatedly used while specific types are used for special large scale projects.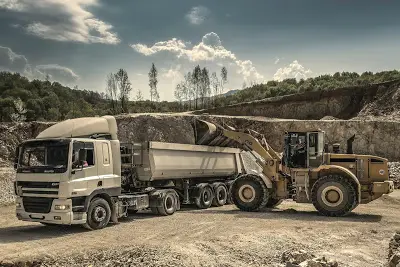 Most Rented Construction Equipment
For example, the building site equipment will be altogether different than that of road construction. You will use excavators on both but for laying and compaction of asphalt, you will require a roller. 
So, you can own an excavator and if require can go with a vibratory road roller rental service.
Anyhow, you need a thorough business plan for equipment rental to avoid the unnecessary financial burden and work stoppages. 
One way of planning for machinery is to do a market survey and know what is the most rented construction equipment in your niche?
You can refer to the industry trends and statistics from reports to plan a way forward. 
Anyhow, that too is a tedious job so we've compiled this guide about the most rented construction equipment. This will not only help you in your selection but will also give you an overview of the industry trends.
Feeling excited? Let's get started.
Just Look for these products and go for rental if your usage is less than 40%
Scissor Lifts
At the top of our list for most rented construction equipment is a scissor lift. This aerial lifting equipment is used for both indoor and outdoor construction activities. It is used as a work platform for workers at different locations so they can work safely at heights. After having a scissor lift, you won't have to go for a ladder or scaffolding. It has safe and secure enclosures that can be easily lifted at high elevations depending on the location of the work point. So, if you've got a job for the installation of cladding, windows, or building façade; this machine can do wonders.
Boom Lifts & Cranes
Boom lifts whether straight or articulating is used to lift people and materials onto poles or elevated work areas. Sometimes, it is used around corners to maneuver obstacles. The basic difference between a scissor lift and a boom lift is that a scissor lift can only lift the work area upwards at the same axis as that of the body while the boom lift doesn't have such a restriction.
Telehandlers
Telehandler as they suggest is an aerial lifting device that can also work as a hoisting device. It can work as a crane to lift and carry heavy loads from one place to another. It can undertake all the lifting jobs unless you need a crane. They are widely used in a number of projects in the construction and agriculture industries.
Dozers 
Bulldozers are another more frequently rented heavy construction equipment. Contractors working for earthmoving projects like roads and highway jobs require it to dig and ditch earth. Dozers are also used for short-range transportation, removing trees, cleaning, and level site areas.
Wheel Loaders
As the name indicates, wheel loaders are used for picking and loading materials into dump trucks. It works efficiently for laying pipes, shifting, and clearing rubbles but you can't use it for heavy-duty excavation as that may require an excavator.
Tractors
Well, this versatile earth-moving equipment has a plethora of applications in the construction, road building, and agriculture field. With its powerful engine, it can pull or push loads and work easily like front-end shovels or bulldozers.
The bottom Line
As a contractor, financial flexibility is very crucial for your survival in a construction business. You need to reduce the costs of machinery and tools so as to maximize the investment output. But as you've got to deal and tackle bigger jobs, you need expensive and heavier equipment to grow and thrive. The only solution for such a multifarious scenario is to go for equipment rental.
That's the reason why the percentage of rental construction equipment continues to grow and the contractors are relying on this trick to boost profit margins and close more deals. They enjoy the availability of a new and innovative model and that too boost up their productivity and efficiency at site work.