Join us on Facebook!
Stay updated with our latest construction news, tips, and updates.
Like our Facebook Page
Construction workers use concrete forms to provide support for poured concrete in load-bearing structures. This task requires a good deal of specialized equipment and knowledge. For larger projects, contractors may need to hire specialists, but most smaller jobs can be completed safely in-house.
A Stable Concrete Structure: 5 Formwork Construction Tips
Construction foreman need to choose the right types of concrete forms for every job, which can be difficult without specialized training and experience. Read on to find four tips for formwork construction that can help ensure worker safety and avoid damage to structural components.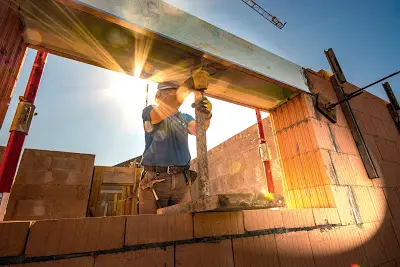 Concrete forms – Tips for formwork construction
Tip #1: Keep Multiple Workers On the Site
Panel Formwork can be heavier than inexperienced contractors might think. It often takes multiple workers on-site to get each panel into place safely. Sometimes, heavy equipment may also be required. When this is the case, it's better to hire a specialist.
Having multiple workers on-site is also a good safety precaution. Should an emergency situation arise, it will ensure someone is there to monitor the situation and respond. If additional workers must be brought in, make sure each of them has adequate personal protective equipment (PPE), such as hard hats, gloves, and eye protection.
Tip #2: Erect Barriers
If the structure being completed is in a city or another environment that might attract bystanders, construction foreman must take their safety into account, as well. That requires erecting barriers well outside the construction zone to keep passersby from accessing dangerous areas. Even if the formwork is erected correctly and does not fall out of place, concrete can splatter during the pouring process.
Tip #3: Purchase or Rent Enough Concrete forms in Advance
Whether contractors plan to rent formwork or purchase it, they'll need to make arrangements in advance. The workers will need to have 100% of the formwork materials on-site before the project begins. When renting formwork, make arrangements for delivery well in advance since it can be difficult to transport.
Tip #4: Select the Right Forms
Conditions for pouring concrete structural components vary by site, so it's important to choose the right forms. Some formwork systems are more labor-intensive, while others are very efficient. Keep in mind that investing in highly efficient formwork can help to cut back on labor costs. Here are a few other factors to consider before buying or renting forms:
Availability of materials

Possibility of pre-assembly

Availability of training

Safety considerations when installing, using, and dismantling forms

Engineering services

Worker experience with particular systems
Tip #5: Budget for High-Quality Formwork
High-quality formwork isn't cheap. Contractors who plan to complete just one project using the forms may be able to rent them, which can cut back on material costs. Estimating cost requirements in advance is essential for coming up with an accurate budget, though.
For most projects, concrete forms accounts for between 40 and 60% of the cost of pouring concrete. Don't assume that cheaper formwork offers a greater value. Cheap formwork is often more labor-intensive to install, which tends to offset the lower material cost.
The Bottom Line
Designing and installing a formwork system can pose a serious challenge for inexperienced contractors. Take advantage of available opportunities such as pre-building, engineering help from formwork providers, and on-site training. If the project is large or unusually complex, consider hiring a specialist. No matter who builds the forms, make sure the work area is safe and put up proper signs to comply with OSHA regulations.