Concrete and reinforced concrete are used as building materials in every country. In many, including the united states and Canada, reinforced concrete is a dominant structural material in engineered construction. The universal nature of reinforced concrete construction stems from the wide availability of reinforcing bars and the constituents of concrete, gravel, sand, and cement, the relatively simple skills required in concrete construction, and the economy of reinforced concrete compared to other forms of construction. Concrete and reinforced concrete are used in bridges, buildings of all sorts, underground structures, water tanks ,television towers, offshore oil exploration and production structures dams, and even in ships.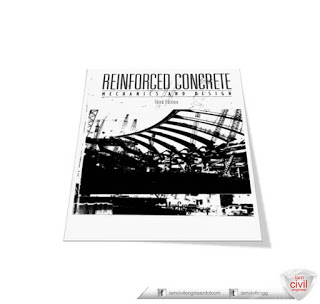 Title of the Book
Reinforced Concrete
Mechanics and Design
Author of Book
James G. Macgregor
University Professor Emeritus
Department of Civil Engineering
University of Alberta
Contents of the Book
Introduction
Design Process
Material
Flexure; basic concepts, Rectangular Beams
T beams and beams with compression reinforcement and special cases
Shear in beams
Torsion
Development, anchorage and splicing of reinforcement
Serviceability
Continuous beams and one way slabs
Columns : combined axial load and bending
Slender Columns
Two ways slabs
Equivalent Frame Method
Two way slabs : Elastic yield line, and strip method analysis
Footing
Shear Friction, Horizontal Shear Transfer, And Composite Concrete Beams
Discontinuity Regions, Corbles, Deep beams, And Joints
Design for Earth Quake Resistance
Download the Book
The Content is for Members Only !!!
This Book is available to download for our Bronze, Silver & Gold members, you can simply click the button below to signup / login for your membership and download the book now.
Download this Book